Sweet Briar's Closing Plan Roils Bonds of Riskier Small Colleges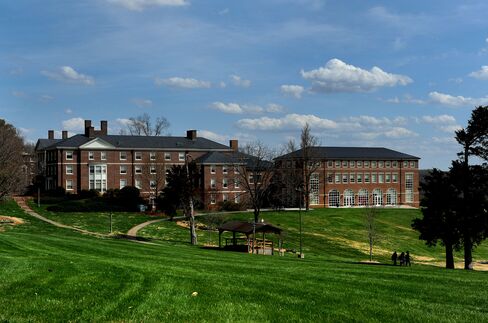 Sweet Briar College's decision to close is spurring investors to reassess debt from schools facing financial strains similar to those of the 114-year-old women's college in Virginia.
At least 22 colleges with fewer than 4,500 students and rated at best three steps above junk have seen trading in their bonds leap since March 3, when Sweet Briar said it would shutter in August, data compiled by Bloomberg show. The list includes Bridgewater College in Virginia and Mills College in California.
Sweet Briar's fate is far from certain: A county attorney sued the college last month seeking a court order removing its president and trustees and blocking it from closing. Regardless of the outcome, the plan puts a spotlight on schools buffeted by forces such as diminished ability to boost tuition in the face of mounting student loans, said Roy Eappen, an associate at Wells Fargo Securities.
"Sweet Briar opened up a conversation about whether you should close early, so that is a concern for bondholders," Eappen said from New York. "If you look at things like revenue diversity, it's easy to shy away from the smaller schools."
Ratings Hammer
The school embodies the financial pressures confronting smaller institutions. Ten private four-year colleges closed or were acquired on average annually from 2008 to 2011, about double the historic rate, according to a 2013 Vanderbilt University study.
Standard & Poor's rated Sweet Briar BBB, the second-lowest investment grade, until March 3. That day, it dropped the school seven levels to B-, though S&P said Sweet Briar can still pay bondholders.
Investors may not be as confident. Debt maturing in September 2030 traded March 4 at 83 cents on the dollar, down from 102 cents the previous day. The bonds have averaged 96 cents this month.
The $3.6 trillion municipal market has a history of speculating about broader strains based on one issuer's struggles. When Detroit filed for bankruptcy in July 2013, issuance in Michigan slowed to the least in a decade. The yield spread on California bonds climbed in 2012 after three cities decided to file for Chapter 9 within two weeks.
Market Judgment
Investors are taking that approach with smaller, niche colleges resembling Sweet Briar. For schools planning to sell debt, wider yield spreads may signal steeper borrowing costs, pressuring their finances.
"I could see some investors deciding they'll sell anything that looks like this," said Michael Johnson, managing partner at Gurtin Fixed Income Management, which oversees $9.2 billion of munis in Solana Beach, California. "The market definitely should be concerned."
Bridgewater College, 79 miles (127 kilometers) north of Sweet Briar and with a Moody's Investors Service rating two steps above junk, also saw its debt weaken. Bonds maturing in April 2031 traded March 11 with the most volume since 2008, to yield 4.18 percent, the highest since December.
Moody's last rated the college in 2013, when the company said competition may constrain tuition growth. The school is vulnerable to changes in enrollment because of its size, according to a report this month.
Charles Culbertson, a spokesman for Bridgewater, didn't return calls seeking comment on the debt trading.
Price Shift
Debt from Mills College in Oakland, California, also fell in price. Bonds due in September 2035 changed hands March 5 at 98 cents, the lowest since June and down from 102 cents in trading three weeks earlier. Moody's cut the school's rating in November to one step above junk, with a negative outlook.
The downgrade of $31 million in debt reflected "continued deficit operations, which will be increasingly difficult to balance given the college's fundamentally challenged student market with volatile enrollment, stagnant net tuition per student and weak matriculation," Moody's said.
"We haven't observed any of this," said Robert Allison, chief financial officer at Mills College. He said the college last week finished refinancing bonds from 2005, securing a lower interest rate.
With about 700 students, Sweet Briar is smaller than Bridgewater, with about 1,800, and Mills, with about 1,600.
Bondholder Promise
Sweet Briar's specialization constrained how it could cut expenses and draw students, leading to an "unsustainable business model," Erin Ortiz, an Moody's analyst, said in a report this month.
Although the college said it will help students enroll elsewhere, an alumnae group hired a law firm to fight the decision and raise funds to keep the school open. Its officials have said the school plans to meet its obligations on bank loans and bonds.
"Nothing of substance has changed in our expectations to make bondholders whole through the wind-down process," Christy Jackson, a spokeswoman, said via e-mail April 17.
"What it comes down to is: Why does this school exist?" said John Bonnell, who helps oversee $10 billion of munis at USAA Investment Management Co. in San Antonio, including Sweet Briar bonds. "What sets them apart? We view the whole sector very cautiously."
Before it's here, it's on the Bloomberg Terminal.
LEARN MORE