Nordstrom Accused of Hiding Costs of Flying Family's Planes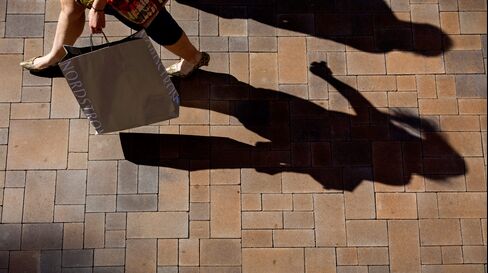 Nordstrom Inc. owns two jets, regularly leases two and employs either nine or 12 pilots, depending on who's counting. A shareholder says there's something's wrong with that mix.
Lots of companies have planes to ferry employees around, and there's nothing unusual about an executive taking a corporate aircraft on a non-business junket, a perk that's often part of compensation. The Nordstrom twist is that its crews also fly, service and manage planes that belong to descendants of founder John W. Nordstrom. The claim in a lawsuit is that they've paid cut-rate fees for the use of company pilots and other aviation staff, and that directors sanctioned it.
"Nordstrom has secretly diverted millions of dollars in hidden subsidies to the Nordstrom family," the plaintiff, Judith Burbrink, says in the suit in federal court in Seattle.
Tara Darrow, a Nordstrom spokeswoman, says Burbrink's allegations are baseless and disputes several assertions in the suit, including one that the company employs 12 pilots; Darrow says it's nine. The family makes full reimbursements, she says, and the arrangement with the clan helps "maintain our Nordstrom aircraft at a lower cost to shareholders."
Corporate jets can be flashpoints for investors, and there's been a rash of cutting back. Abercrombie & Fitch Co. is selling its Gulfstream G550, which had an infamous rulebook with guidelines about the underwear worn by models working on board, and Target Corp.'s new chief executive agreed to pay if he racks up more than $175,000 in personal trips a year on Target's four jets. Tesco Plc's about to jettison the last plane in what was a fleet of five, seen as a symbol of excess as it struggled.
Five Nordstroms
At Nordstrom, there are three jets in regular use and an aviation staff large enough to pilot and service other aircraft for a fee. It does that for members of the founding family.
Based in Seattle, Nordstrom is the U.S.'s largest luxury department-store chain and still a family run business 114 years after it started as a shoe store.
Five Nordstroms own 25 percent of the shares, and former Chairman Bruce Nordstrom is the largest stockholder with 13.66 percent, according to regulatory filings. Several Nordstroms are vice presidents, including Peter E. Nordstrom, who oversees merchandising. He sits on the 13-member board, as does Blake W. Nordstrom, the company's president, and Erik B. Nordstrom, head of the online unit.
Fortune magazine in 2014 put the family's total net worth at more than $3.7 billion, and data compiled by Bloomberg show Bruce Nordstrom's is $1.7 billion.
'Unjust Enrichment'
Burbrink doesn't focus on their wealth but on what she says is their "unjust enrichment." She calls Nordstrom's corporate aviation department "bloated and costly" and alleges family members reimbursed it for only "a fraction" of the costs of flying, maintaining and housing their personal craft, something she says Nordstrom should have disclosed in U.S. Securities and Exchange Commission filings.
In what's known as a derivative complaint, she's suing on behalf of the corporation and its shareholders, and any award would go to the retailer. A stockholder since the 1970s, Burbrink owns 500 shares, according to the suit. She accuses board members of breaching their fiduciary duties and seeks damages of an unspecified amount.
From 2011 to 2013, she claims, company pilots spent 40 percent of their time flying family planes on non-business trips and ground crews worked 80 percent of their time servicing them. The family's reimbursements totaled $1.9 million over the three years, and the cost of the aviation department's operations during that period was $10 million, according to the suit.
Float Planes
To supplement the two Bombardier Inc. jets Nordstrom owns, one with 22 seats and the other with eight, the company often rents a Bombardier or a Cessna from JBW Aircraft Leasing, which regulatory filings show is owned by Bruce Nordstrom, John N. Nordstrom, a former executive and director, and Anne Gittinger, Bruce's sister.
Under the lease agreement, Nordstrom executives can take JBW's jets on business trips when the owners aren't using them. According to the suit, the corporate aviation department also has a contract to take care of two float planes and two turbo-props owned by other members of the extended Nordstrom family.
Darrow, the company spokeswoman, says Burbrink has that wrong, and that there are four float planes, two of which are turbo-props, and one Swiss-made Pilatus PC-12 turbo-prop.
She says the arrangement works well for Nordstrom, which has stores across the country. "For us, having accessibility to the aircraft helps us better manage our business," she says. Nordstrom executives and family members declined to comment.
Hawaiian Island
Every year, Darrow says, the company hires Argus International to conduct an analysis and determine what the family owes the company for the aviation department's care and piloting of its aircraft.
One of Burbrink's complaints is that the board hasn't conducted an overall review of the costs to the company of providing aviation services to family members.
She cites trips in the suit, including one in March 2013 to Hawaii that John N. Nordstrom and others took on a 22-seat Bombardier Challenger owned by JBW and piloted by company crew. Company documents show he was charged pilot fees only "for the three days the plane was actually in the air" and not the two weeks the pilots were on the island of Kona between flights, according to the suit.
Puerto Vallarta
The suit also focuses on a December 2013 trip to Puerto Vallarta, Mexico involving both JBW planes. Bruce Nordstrom only paid two days of pilot fees for a six-day holiday jaunt to the Mexican coast, according to the lawsuit.
Darrow says Burbrink misinterpreted the files on the Hawaii trip. The JBW jet was configured to hold 12 passengers for the trip and its pilots took a commercial flight to Seattle after ferrying the party to Hawaii and flew commercial back to pick them up, and John Nordstrom paid for their travel, she says.
On the Mexico trip, Darrow noted the Nordstrom pilots flew commercial carriers back to their base and returned the same way to bring their passengers home. The JBW partnership "covered all costs," she said in an e-mail.
Burbrink filed her suit on March 13, and a federal judge ruled April 7 that portions that had been blacked out, because they were obtained during pre-suit discovery and the company objected, should be made public.
Board members can be held personally liable if a court finds they turned a blind eye to deals allowing corporate funds to be spent on non-company events, says Erik Gordon, a professor at the University of Michigan's Ross School of Business. "Directors have a duty to oversee the company for the benefit of its shareholders, not its top brass and founding family."
The case is Burbrink v. Campbell, 15-cv-00377, U.S. District Court, Western District of Washington (Seattle).
Before it's here, it's on the Bloomberg Terminal.
LEARN MORE