Individual investors in the stock market are often referred to as "retail."
This is because they trade in discount online brokerages like E*Trade's and Fidelity's, which is sort of like buying off the rack instead of the tailored suits and couture offered at the brokerages run by the Goldman Sachs or Morgan Stanleys of the world.
Consequently, retail as a group is not necessarily viewed on Wall Street as, um, the best dressed. However, their trades amid a market plunge of nebulous causes on Friday make them appear downright dapper today, presuming this rebound in equities holds. As ConvergEx Group strategist Nicholas Colas noted this morning, a compilation of orders from Fidelity's customers showed they stormed the market looking for bargains like a bunch of doorbusters at Wal-Mart on Black Friday.
Apple Inc., Netflix Inc. and Facebook Inc. were involved in the most orders at Fidelity, with buys outnumbering sells by 2.6, 1.1 and 2.4 to 1 respectively, according to Colas. Retail investors were net buyers of the top 30 securities on the list and sellers of just two individual companies, Microsoft Corp. and Schlumberger Ltd.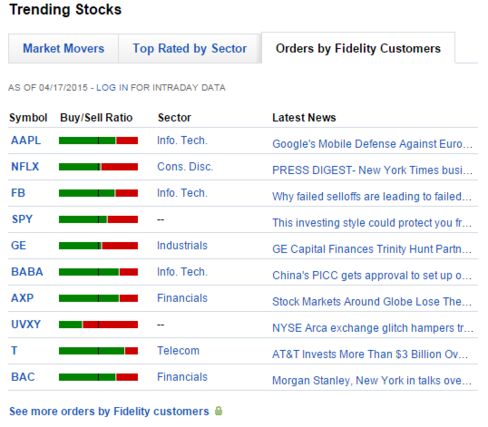 There are other interesting tidbits of insight in the data. Only five exchange-traded funds were among the top 30 securities on Fidelity's list and only two were in the top 10: the SPDR S&P 500 ETF Trust (known by its ticker SPY), which was bought at a ratio of 1.6 to 1; and the ProShares Ultra VIX Short-Term Futures ETF (ticker: UVXY), which was sold by retail at a rate of more than 2 to 1 even as demand for protection against more losses sent the double-levered volatility security up 6.7 percent.
"I know we can't take one day — even a volatile one — and put too much weight on the data to extrapolate larger trends," Colas wrote. "At the same time, the long term is just a bunch of short terms strung together. Friday's volatile action should have been exactly the kind of churn that spooks retail investors," he wrote. "And yet, the data is clear: retail bought this dip."
Buying that dip looks like it may be the right call today, with benchmark indexes rebounding and Apple and Facebook posting gains in early trading while the UVXY tumbles.
Whether or not it's a one-day phenomenon is yet to be seen, but it may not matter much to the many day traders among the retail crowd who, like the plumber/philosopher Schneider, obviously take things just One Day at a Time.
Before it's here, it's on the Bloomberg Terminal.
LEARN MORE