Libya's Chaos Arrives at Gates of Europe With Migrant Drownings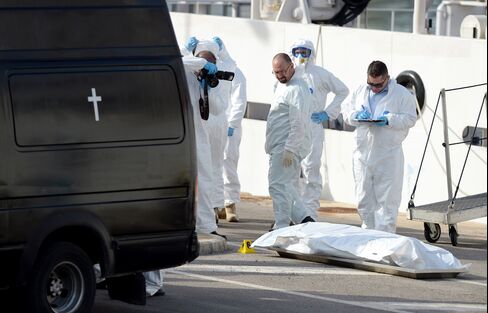 Hundreds of would-be migrants drown as their ship sinks in the Mediterranean off Libya. At least two dozen Ethiopian Christians are executed in the southern and eastern parts of the country. Oil fields are seized in the center.
The message couldn't be clearer for the leaders of Europe: Libya's growing chaos is at their gates.
"Libya is effectively a failed state," Spanish Prime Minister Mariano Rajoy told Parliament on April 15, even before a boat packed with at least 700 people went down late Saturday. Only 28 have been rescued. A video posted on a website that reports jihadi news showed two groups of captives, said to be Christians, beheaded or shot in eastern and southern Libya.
The rise of Islamic State in Libya, itself governed by two rival governments, is sending shivers throughout Europe's political and business circles. Militants captured four oil fields six weeks ago, though they were later recaptured by a government protection force. And looser border controls are opening the way for a record number of refugees trying to cross the Mediterranean into Europe, as little as 200 miles away.
Islamic State has been blamed for the Jan. 27 attack on the five-star Corinthia Hotel in Tripoli that left at least nine dead, and attacks on foreign embassies -- largely vacated already -- this month.
"This affects us," said Mattia Toaldo, a Libya expert at the European Council on Foreign Relations in London. "Firstly in terms of energy security, secondly it pushes more migrants into the sea and the third threat is the more direct terrorist threat. Now we have a terrorist hub much closer to Europe, much closer than Syria is."
Oil Attacks
Embassies have closed following the elected government's flight from Tripoli to Tobruk, the international airport lies in ruins and strikes and attacks on oil fields have caused most companies to shut down operations. Italian oil giant Eni SpA, one of the few to remain in Libya, is concerned.
"We need to hurry because terrorist activity in Libya" is making it harder for the different sides to talk and "the situation remains very volatile," Eni CEO Claudio Descalzi said in a Feb. 18 conference call with analysts. "A united Libya needs to be the goal."
Eni has been in Libya since 1959. About 60 percent of Italy's refining capacity is supplied by Libya, according to an April 16 Bloomberg Intelligence report by analyst Philipp Chladek. The recent violence threatens to disrupt Europe's oil supply, it said.
Security Concern
Spanish oil producer Repsol SA pulled out of Libya last November on what chief executive officer Josu Jon Imaz described as "a strong security concern."
"Libya is also a problem, of course, for the Libyan people and also for Europe," he told investors on a Feb. 26 conference call. "The possibility to have a failed state in the borders of the European Union, I mean, is a main concern for the international community."
Libya feeds gas northward through the underwater Greenstream pipeline to Sicily, and had welcomed a plethora of international energy companies following the 2011 downfall of leader Muammar Qaddafi.
About 250,000 barrels a day were produced in February, one-sixth of the pre-2011 rebellion output level, because of an attack on a pipeline in eastern Libya, according to Bloomberg estimates. The country production rate for this month is about 600,000 barrels a day, the International Energy Agency said April 15.
Neutrality Effort
Production has been aided by the fact that Libya's National Oil Corp., like the central bank, is trying to maintain neutrality amid the power struggle. That may change. The elected government in the east is working to put oil revenue directly into its hands by setting up an overseas bank account for which payments for sales will be made.
Further attacks on oil infrastructure could jeopardize the country's ability to bring exports above 250,000 barrels per day on a sustained basis, Eurasia Group senior North Africa analyst Riccardo Fabiani and oil analyst Greg Priddy wrote in an April 14 report.
The growing violence prompted neighbor Egypt to bomb Islamic State targets in Libya in February, and Italy to say it would consider sending a force under a UN mandate.
Increasing numbers of migrants are braving the Mediterranean crossing -- more of them via Libya as border controls loosen. About 1,600 people will have died in 2015 crossings if the toll of the latest tragedy is confirmed, according to the Office of the UN High Commissioner for Refugees. That's more than perished in the April 15, 1912, sinking of the Titanic.
Nexus Point
More than 170,000 migrants crossed the Mediterranean from North Africa last year, with Libya acting as a nexus point and Italy and Malta as endpoints, according to data from European border agency Frontex. That's more than four times the number that made the crossing in 2013.
European foreign ministers meet today in Luxembourg and will discuss the situation. Italian Prime Minister Matteo Renzi said national leaders should meet on the migrant crisis and has called on Europe to help stabilize Libya. He also has offered to lead a UN-backed mission into the North African country should diplomatic efforts fail.
"No solution to the migrant crisis can be found without stabilization in Libya," Renzi told reporters on Sunday. Similarly, Maltese Prime Minister Joseph Muscat agreed Libya was the problem.
"Unless something is done about Libya, these scenes will be repeating themselves," he said today.
Before it's here, it's on the Bloomberg Terminal.
LEARN MORE