Jihadists Coming Home to Jordan Raise Security Risks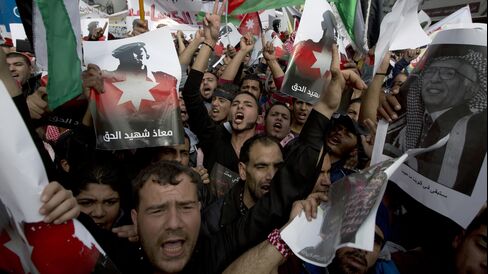 Young Jordanians once listened to Sheikh Mohammed al-Shalabi as he encouraged them to go fight in Syria. Now he hopes the government will heed him too.
Families of the jihadis send the Salafist leader, known as Abu Sayyaf, WhatsApp messages, call or stop him in public places to ask if he can lobby ministers to allow their children back to the country without prosecution. Shalabi says the men shouldn't be punished or put on trial or they will find a way to come back to Jordan and possibly do the kind of damage the government fears. Most of them joined Islamic State.
"Those who return illegally will probably go underground and nothing will be known about them," Shalabi said at his home in the Jordanian city of Maan. "While those allowed in legally can be monitored by security services."
Jordan managed to maintain stability at the most turbulent time in the modern history of the Middle East, yet the risk is that the revolving door of the Syrian war may still pose a threat as hundreds of men return more radicalized, experienced and with connections to a network of jihadis.
Militants who returned in the 1990s from Afghanistan engaged in a series of bombings in the kingdom, which now also has the added strain on its security and economic resources from an influx of 1.5 million Syrian refugees.
Aggrieved Fighters
"The challenge in the long run will be what to do with these veterans," Kamran Bokhari, an adviser for Middle Eastern and South Asian affairs at Texas-based consulting firm Stratfor, said by phone from Toronto. "They will come back more aggressive after fighting in Syria and could resort to violence to draw attention to their grievances."
The city of Maan, about a 40 kilometer (25 mile) drive from the tourist destination of Petra, reflects the ultra-conservative Salafist interpretation of Islam in a country more known for being a key ally of western powers in their fight against jihadis.
Walls are sprayed with graffiti that urge men not to let work keep them from prayer and women to avoid putting on make-up or wearing tight pants "which reflect a woman's bad morals." A banner just off the main roundabout has another message: "It's the sons of Maan's right to return home from Syria."
More than 2,000 Jordanians have gone to Syria, said Musa Abdullat, a legal representative in Jordan for the Salafist movement. About 1,300 of them have joined Islamic State, also known by its Arabic acronym Da'esh, he said. More than 250 have died, according to Abdullat.
Not Lebanon
Though Jordan shares borders with Syria and Iraq, it hasn't seen the kind of violent spillover that has occasionally rocked Lebanon, which has a more potent sectarian mix.
That said, there have been sporadic pro-Islamic State protests in places like Maan after the group declared its caliphate on the Iraq-Syria border in June. Supporters flew its black flag from rooftops, sprayed graffiti hailing the militants and staged protests before the government cracked down on them.
King Abdullah II, whose Hashemite family has ruled the former British protectorate since the 1920s, has vowed to wage a relentless war against Islamic State.
Jordan has joined a U.S.-led military campaign to expel it from the region. It has stepped up bombing runs since Islamic State burned to death one of its pilots, Moath al-Kasassbeh, who was captured in December when his plane crashed in Syria. It has also tightened an anti-terrorism law, suspended clerics who promoted the radicals and jailed returnees from Syria.
Mobilizing Radicals
Jordanians who fight with a foreign militia and come back are immediately arrested and sent to state security court, Mohammad Momani, a government spokesman, said in an interview at his office in Amman, the Jordanian capital.
"It's illegal and absolutely unacceptable for any Jordanian to go do this," he said.
At his living room in Maan, adorned with plastic long gold-stemmed purple flowers and Koranic verses on the wall, Shalabi said these measures are scaring away fighters who may want to come back to Jordan. He had advocated going to Syria to help with the struggle against President Bashar al-Assad, he said.
He said he knows of at least 20 men and four women who are at the border and want to return legally, but without being punished. Hundreds more would follow suit if they knew they wouldn't be prosecuted, he said.
Shalabi said while the government was willing to listen to men like him, al-Kasassbeh's murder put an end to it and now the threat to Jordan is even greater from its own people.
"They are unwittingly mobilizing people," said Shalabi. "They will come from within. Pressure leads to explosion."
Before it's here, it's on the Bloomberg Terminal.
LEARN MORE