Iran Oil Return Seen No Closer as Obama Seeks Creative Angle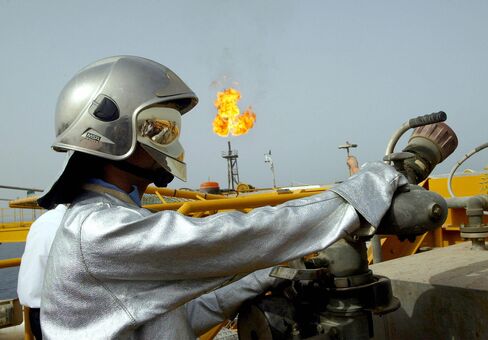 The return of embargoed Iranian crude oil to global markets looks no more imminent than before President Barack Obama appeared to leave open the possibility of lifting most sanctions from the outset if a nuclear deal can be reached, BNP Paribas SA and UBS Group AG said.
Obama said April 17 that "creative negotiations" are needed if a deal with Iran is to be reached over its nuclear program. He's considering "how we snap back sanctions" if the Persian Gulf country violates its side of any accord, he said. Obama hasn't changed his position and was only emphasizing the importance of being able to reinstate sanctions if necessary, according to a White House official, who asked for anonymity to discuss internal deliberations.
The global oil benchmark slumped by 3.8 percent when Iran and world powers said at the start of April that they were working toward a framework agreement that would free up the nation's exports. The White House has said it favors a gradual easing of sanctions.
"We simply regard it as the part of the process in achieving a deal by June," Harry Tchilinguirian, head of commodity markets strategy at BNP Paribas, said by e-mail from London. "Obama has to juggle between domestic and foreign concerns, simultaneously placating both the Iranians and the U.S. congress."
Brent for June settlement slid 4 cents to $63.41 a barrel at 12:58 p.m. Singapore time. It had the biggest weekly gain in the week ended April 17 since 2009. December contracts rose 1 cent to $66.94.
Consistent Policy
"Our main concern here is making sure that if Iran doesn't abide by its agreement, that we don't have to jump through a whole bunch of hoops in order to reinstate sanctions," Obama said April 17. "How sanctions are lessened, how we snap back sanctions if there's a violation, there are a lot of different mechanisms and ways to do that."
U.S. Energy Secretary Ernest Moniz reasserted the administration's previous position on Monday. He said in an interview with Bloomberg editors and reporters in Washington that he believed it would take Iran at least six months to meet the terms of a deal sufficiently to warrant relief from sanctions.
Adopting a "snap-back" approach would probably require Iran to assent to a "very rigorous and invasive inspection regime" in order to secure the swift removal of sanctions, Torbjorn Soltvedt, a Bath, England-based analyst at Verisk Maplecroft, said by phone. The firm employs more than 100 analysts to monitor risk in 198 countries.
Last Obstacle
"I just see it as rhetoric and talking points that are meant to appeal to domestic constituency," said Robin Mills, a Dubai-based analyst at Manaar Consulting who worked with Royal Dutch Shell Plc in Iran until the middle of the last decade. "The market view is going to be going up and down as negotiations progress."
Even with an deal, Iranian exports are unlikely to be revived before next year, UBS predicts. While oil prices remain unaffected by Obama's comments, traders will probably grow more sensitive to signals from the U.S. and Iran as the time for reaching an accord approaches, according to Giovanni Staunovo, an analyst at UBS in Zurich.
"There are still many points which need to be discussed toward a final deal," Staunovo said by e-mail. "The market is less focused on these comments at the moment. It might listen more closely once we approach the end of June deadline."
Before it's here, it's on the Bloomberg Terminal.
LEARN MORE