How Home Depot Plans to Turn Spring Into Christmas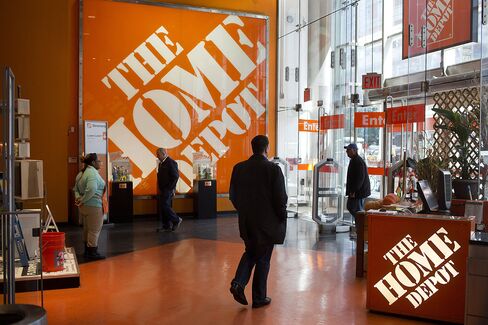 Home Depot Inc. keeps trying to turn spring into Christmas.
The world's largest home-improvement retailer has been attempting to transform the season -- its biggest selling period of the year -- into a promotional event on par with the holiday shopping blitz that preoccupies the rest of the retail world.
Home Depot started borrowing from the Christmas-shopping playbook six years ago when it rolled out "Spring Black Friday," an homage to the day after Thanksgiving, which is one of the biggest shopping days of the year. Now Home Depot is going even further with its first spring "Cyber Week," which started Sunday, mimicking the online-shopping promotions it ran following Thanksgiving.
"We had a great response on our traditional Cyber Week events," said Kevin Hofmann, Home Depot's president of online operations. "That triggered us to say Thanksgiving time isn't the only time customers want a deal, so let's extend it into our peak selling season."
Black Friday began with discounting on the day after Thanksgiving, but the phrase has become a catch-all for almost any promotion during the holidays and beyond. Last year, so-called Black Friday deals started showing up in October around Halloween.
While critics say the term is overused, Hofmann says Home Depot decided to use the verbiage again this year and follow it with a Cyber Week for one simple business reason: It works. The chain racked up about $500 million in sales during last year's post-Thanksgiving Black Friday for its biggest sales day ever.
'Constant Challenge'
"It's a constant challenge that retailers have of how do you capture the attention of the consumer and which buzzwords resonate versus which buzzwords turn people off," said Hofmann, who has overseen e-commerce at Home Depot for two years. "There's probably a debate on whether Black Friday is the right terminology, but it's been working for us."
Trying to make a spring online event stick makes sense for Home Depot because it's becoming more reliant on the Web for growth. While the chain didn't open any new stores in the U.S. last year, e-commerce sales surged 37 percent to $3.8 billion, accounting for about 5 percent of total revenue.
Home Depot isn't alone in trying to transport the Black Friday magic. Lowe's Cos., its biggest competitor, is holding a Spring Black Friday event for the third straight year that includes television ads hyping deals like five bags of mulch for $10. The chain borrows from the holiday-shopping season because there aren't enough traditional events to lure shoppers, said Connie Bryant, a spokeswoman for Lowe's.
Wal-Mart Events
Even retailers outside of home improvement are trying to make Spring Black Friday a tradition. Department-store chain Bon-Ton Stores Inc. has held one since 2012 and had its most recent one two weeks ago.
Wal-Mart Stores Inc. touted "Black Friday-like prices" last year for a spring savings event in late March that focused on outdoor items like lawnmowers and charcoal grills. The company hasn't announced a similar event for this year.
Meanwhile, Home Depot stores had 11 days of discounts through Sunday, followed by Cyber Week deals this week. The new promotions include 25 percent off a DeWalt five-tool kit for $299. And there might be more to come.
"We're going to follow the customer," Hofmann said. "When the customer quits buying, that's when we'll stop running events."
Before it's here, it's on the Bloomberg Terminal.
LEARN MORE