Goldman, Morgan Stanley Widen Equity-Trading Lead on U.S. Rivals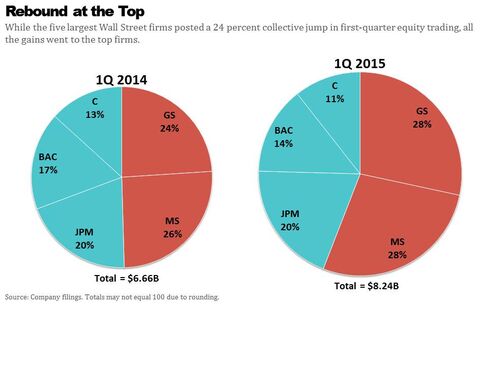 Goldman Sachs Group Inc. and Morgan Stanley stretched their equity-trading lead over rivals as they led U.S. banks in reporting the most revenue from that business in more than five years.
The five largest Wall Street firms reaped $8.24 billion from trading stocks, options and other derivatives and running prime-brokerage operations in the first quarter. That was 24 percent higher than a year earlier and the most since at least the final quarter of 2009, the earliest period Goldman Sachs reported under its current structure.
While many of the world's biggest banks have scaled back in some areas of fixed-income trading, most stayed committed to their equities units. Still, performance diverged among U.S. firms this quarter. New York-based Goldman Sachs, Morgan Stanley and JPMorgan Chase & Co. posted revenue increases of more than 20 percent, while Bank of America Corp. and Citigroup Inc. -- already smaller in that business -- reported 1 percent declines.
"To really be a significant player in this, you need to have scale," Goldman Sachs Chief Financial Officer Harvey Schwartz, 51, said April 16. "This was a quarter where we really saw a strong contribution across the entire business."
While the Standard & Poor's 500 Index had its smallest quarterly increase in more than two years, volatility increased and markets flourished in other regions. The Euro Stoxx 50 jumped 18 percent as the European Central Bank started its quantitative easing program, and Japan's Nikkei 225 Stock Average climbed 10 percent.
Different Paths
"The big theme across products has been the increase in investor interest outside the U.S., in particular U.S. investors focused on opportunities in Europe and Asia," Morgan Stanley CFO Ruth Porat, 57, said Monday in an interview.
Goldman Sachs, which posted a 46 percent jump to $2.34 billion in revenue from equities, and Morgan Stanley, which saw a 33 percent climb to $2.27 billion, have achieved their dominance by different paths.
After Morgan Stanley suffered an exodus of prime-brokerage clients amid its near-collapse in 2008, it has built that business back to the largest among global banks, according to industry analytics firm Coalition Ltd. The investment bank, whose equities business is run by Ted Pick, also benefits from filling trade orders from its $2 trillion retail brokerage.
Goldman Sachs's equities unit, run by Paul Russo and Michael Daffey, almost tripled the amount of principal gains it produces from being a market maker. Executives called out derivatives and block trades -- where the firm purchases a large chunk of stock, typically at a discount, and sells it in pieces -- as areas of strength.
JPMorgan maintained its market share among the largest U.S. banks with a 22 percent increase to $1.61 billion. It was the top firm in equity derivatives last year, according to Coalition. Tim Throsby, the bank's head of equities, has vowed to move the company into the top three in cash equities trading globally.
Before it's here, it's on the Bloomberg Terminal.
LEARN MORE