Fossil Fuel: Hasbro Gets Sales Boost From 'Jurassic World'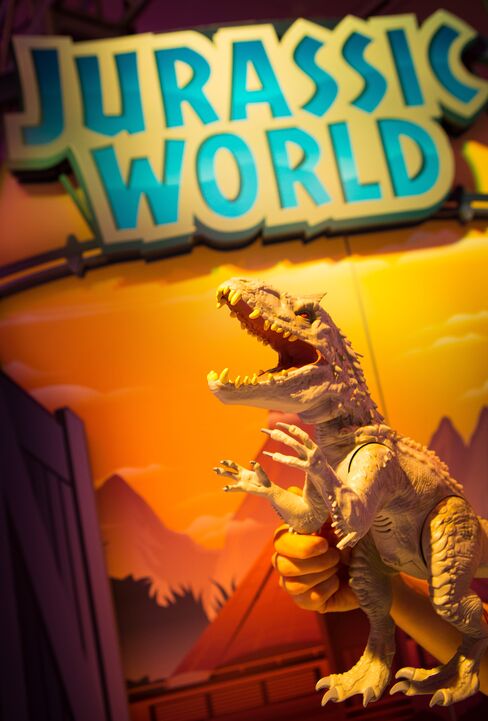 Toymakers are expecting two prehistoric movies to bring a surge of sales in 2015, which the industry is calling "the year of the dinosaur."
"Jurassic World," the fourth installment of the science-fiction series, hits theaters in June and is already spurring demand for Hasbro Inc.'s licensed toys. Movie merchandise helped increase sales at Hasbro's boy division by 10 percent last quarter, the company said on Monday. A second film, "The Good Dinosaur," comes out in November, potentially bringing another wave of toy sales.
While dinosaurs are always popular with children, having two major films based on the creatures is generating extra buzz. Toys based on "The Good Dinosaur," a 3-D computer-animated comedy from Walt Disney Co.'s Pixar, will be sold by Japan's Tomy Co. But even companies without licenses to sell official movie merchandise, such as Mattel Inc., are getting in on the dino deluge.
Hasbro, with its "Jurassic World" license, stands to be the biggest beneficiary. Its boys category, which also includes homegrown brands like Transformers and Nerf, contributed to an overall sales gain of 5 percent to $713.5 million in the first quarter. That topped analysts' estimates.
Its stock jumped 13 percent to $74.16, the biggest one-day increase in more than five years. The shares have gained 35 percent this year, compared with a rise of 2 percent for the Standard & Poor's 500 Index.
Play-Doh Movie
The Pawtucket, Rhode Island-based company also is looking forward to a slate of other movies. A fifth installment of the Transformers film franchise is coming in 2017, Hasbro said on Monday. And there's a film based on the Play-Doh brand in the works. That follows last year's hit "Lego Movie," which boosted sales for Lego A/S.
"We think it's a very fun format for a movie and for storytelling," Hasbro Chief Executive Officer Brian Goldner said on a conference call with analysts.
Movies are a crucial part of Hasbro's business model, and the licensing goes both ways. With "Jurassic World," it used a Hollywood property to sell toys. With the Transformers films, it turned a line of robot toys into a movie franchise. That series has now generated billions in box-office receipts and toy sales.
"Entertainment will continue to drive our business," Goldner said.
Before it's here, it's on the Bloomberg Terminal.
LEARN MORE