Student loan debt has become a big economic concern, voiced by policy makers from presidents at the Federal Reserve's regional banks to the Treasury Borrowing Advisory Committee. They and other economists worry it's causing millennials to delay household formation and home purchases, which minimizes the boost to growth from such a large, young population. Here are five things any economy-watcher ought to know about the state of U.S. student debt.
Total student debt has skyrocketed
No question about it: The nation's overall student loan balance is way up, having risen steadily through the financial crisis even as other types of debt declined. This New York Fed study does a good job of explaining it. Today, about $1.2 trillion of student debt is outstanding, and delinquencies have defied the downward trend exhibited by other types of borrowing. As you can see in the chart below, the debt load has increased across the board, though it's heaviest for the under-40 age group.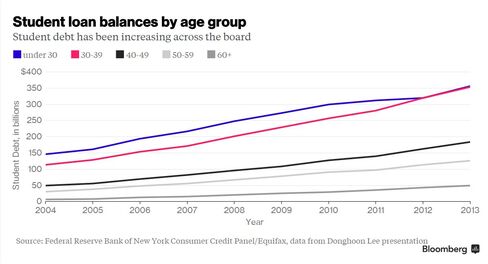 Even so, individual debt may start falling
On the bright side, average annual borrowing per student has been declining since academic year 2010-2011, based on a research report from the Urban Institute in Washington released Monday.
"There are a number of potential explanations" for why that might be happening, said Sandy Baum, a senior fellow at Urban. For one thing, parents may be doing better in the labor market, making it easier for them to pay for their kids' schooling. What's more, for-profit and law school enrollment has been declining, and both of those types of education are costly.
"If this trend continues, the cumulative debt of graduates will eventually start to decline," according to the report and based on data from the not-for-profit College Board. The authors also hold out the possibility that the decline could reverse, and many students who borrowed in peak years are still in school, meaning their burdens will likely still be high upon graduation.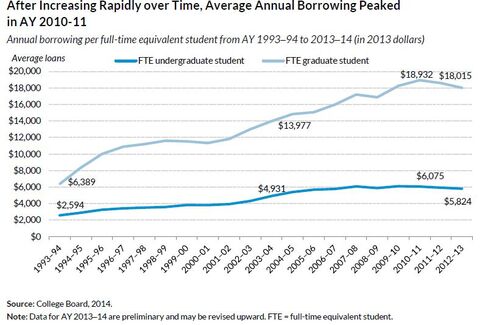 Big debt loads have become more common
Cumulative debt has been rising. For bachelor's degree recipients, the share of students with at least $20,000 in debt climbed to 47 percent in 2012 from 16 percent eight years earlier, according to the Urban Institute. It's especially high for those who attended for-profit schools.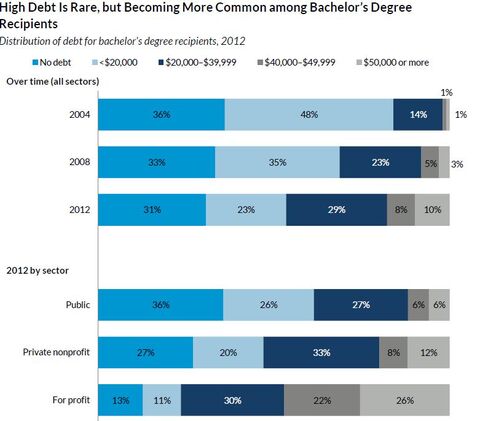 The debt burden is heaviest for grad students
The more schooling you complete, the higher your debt load, as the graphic below illustrates. What's more, the report goes on to find that the longer you take to finish your bachelor's degree, the more debt you're likely to have. Among graduates who spent five or more years in school, one-fifth had debt loads of $50,000 or more, compared with 8 percent for those who'd spent four years in college.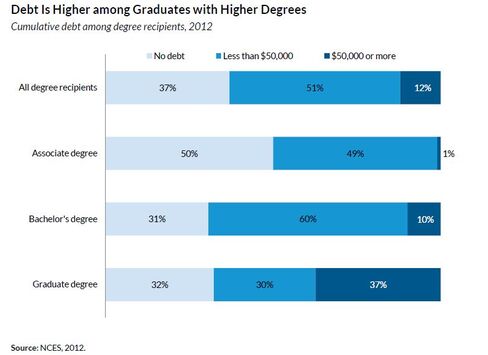 Student loans hurt dropouts the most
Though you may have extra debt upon graduating with a master's or doctoral degree, you're also in a better place to pay debt off. Bureau of Labor Statistics data show that workers with a master's degree made $1,326 in median weekly earnings in 2014, versus $792 for someone with an associate's degree. Those with some college but no degree earned $741 a week.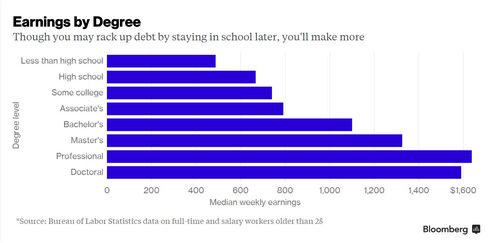 "High debt levels are not necessarily associated with repayment difficulties; borrowers with relatively small debts can struggle if they have low earnings, while those with high incomes can pay off large debts without undue hardship," according to the Urban report. "Not completing a degree is a significant predictor of repayment difficulty and default, despite the relatively low debt levels of this group of borrowers."
For more on the global economy, check out Benchmark:
Before it's here, it's on the Bloomberg Terminal.
LEARN MORE