China Criticizes U.S., Philippine Drills in South China Sea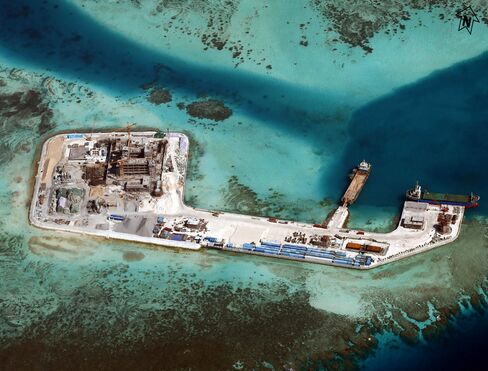 Expanded war games in the South China Sea between the Philippines and its allies are inappropriate and run counter to efforts to ease territorial tensions in the waters, China's state-run Global Times said in an editorial.
The comments come as more than 11,000 soldiers from the Philippines, U.S. and Australia are set to take part in the joint drills near contested islands, with the Philippines' military chief calling China's building work on disputed reefs "worrisome" and a source of friction with its neighbors.
Twice as many troops as last year will join the exercises off Palawan province. Disputes over the sea, of which China claims about four-fifths under a so-called nine-dash line drawn on a 1940s map, have escalated as China expands the reach of its military to back its territorial interests.
While Philippine President Benigno Aquino says the drills aren't targeted at China, "few believe he means it," the Global Times said in the editorial Tuesday on its English-language website. "Can anyone believe that China can be bluffed to make compromises when others show off their military muscle? We will simply find it laughable while imagining Philippine personnel stumbling after U.S. forces."
"The thunder of guns made by Washington and Manila there is inappropriate and of little use."
China's actions have caused unease among neighbors such as Vietnam and the Philippines, which also claim some of the area. It has raised concern among countries that use the sea lanes for trade and commerce, General Gregorio Pio Catapang told reporters in Manila on Monday. "The size of this reclamation is making us wonder what the real intention is," he said.
'Military Purposes'
China's reclamation "will cause tensions among claimant countries not only because it could deter freedom of navigation but also due to its possible military purposes," Catapang said.
The military drills, which run until April 30, seek to "improve our interoperability and enhance our national defense capability," Philippine Foreign Affairs Undersecretary Evan Garcia told reporters after the opening of the annual Balikatan -- shoulder-to-shoulder in Filipino -- exercises on Monday. "Our armed forces needs to improve its own capacity in order to better serve and protect our country."
Catapang said a U.S. plan to deploy advanced air force and naval equipment in the Philippines is in the works.
"We will offer them facilities that we can jointly use because of the situation now obtaining in the West Philippine Sea," he said, referring to the South China Sea.
U.S. Pacific Fleet Commander Harry Harris, who has previously described China as building a "great wall of sand" in the area, said in a speech on Tuesday in Jakarta that China is "responsible for a rise in tensions and provocations in the South China Sea."
Mischief Reef
Even so, Admiral Harris said he didn't think there was a risk of a major "force-on-force" conflict in the waters. "I have to be ready for that, but I'm concerned about the small tactical actions that have strategic consequences throughout the region."
China has often stated its right to carry out construction work in the South China Sea, with recent satellite photos showing images of Chinese dredgers at work at Mischief Reef in the Spratly Islands, a feature also claimed by Vietnam, the Philippines and Taiwan.
Asked at a regular briefing in Beijing about the Balikatan drills, Foreign Ministry spokesman Hong Lei said China called on countries to work together to boost security in the South China Sea, and "contribute to regional peace and stability."
'More Wisdom'
China continues to offer bilateral negotiations to solve territorial disputes, the Global Times said.
"However, the Philippines insists on diverting to another path even after meeting obstacles," it said. "We wish Manila can deal with the issue with more wisdom."
Aquino will bring up China's reclamation work at the Association of Southeast Asian Nations summit in Malaysia next week, Foreign Affairs Assistant Secretary Luis Cruz told reporters on Monday in Manila. "We would always aim for a collective statement, this time on the issue of the reclamation of some features in the South China Sea," he said.
Cruz said Vietnam had sought a meeting with Aquino at the summit.
Catapang also accused China of tolerating environmentally harmful fishing practices by its fishermen occupying Scarborough Shoal. Chinese boats drove away at least 80 Filipino fishermen from the shoal on April 9, the Inquirer newspaper reported.
Before it's here, it's on the Bloomberg Terminal.
LEARN MORE