China Resources Surges After Selling Assets to Focus on Beer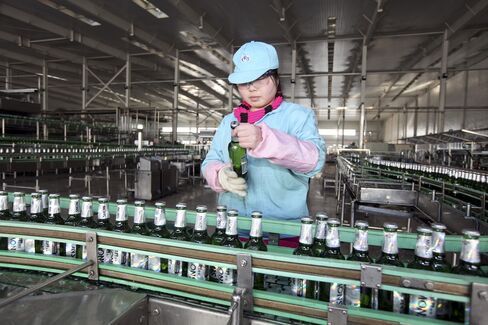 China Resources Enterprise Ltd. rose the most in more than two decades after announcing it will sell businesses including its main money-losing retail venture with Tesco Plc, and focus on the world's best-selling beer.
The stock ended 56 percent higher at HK$23.70 by the close in Hong Kong, after resuming trading from an April 8 halt.
The company will sell its non-beer assets for HK$28 billion ($3.6 billion) and as much as a 10 percent stake to its state-owned parent, China Resources Enterprise said in a statement to the city's stock exchange. The parent will offer HK$12.70 a share for the stake after the disposal, it added.
China Resources Enterprise's multi-business structure "can't reflect full value," Yan Biao, a representative of the parent China Resources Holdings, said at a briefing in Hong Kong on Tuesday. The disposal sets a clear direction for the listed company as "China retail growth to continue face challenges."
The deal leaves China Resources Enterprise with the brewery business, producer of the world's best-selling Snow Beer and which contributed a fifth of 2014 sales and most of the profit. The company has struggled to turn around the retail unit, which caused a full-year loss as China's economy slowed and the government's anti-graft measures hurt retail sales.
China Resources Enterprises' Snow Beer brand had 23 percent of market share in China in 2013, compared with Tsingtao Brewery Co.'s 17 percent in second place, citing its own data in a presentation Tuesday.
Beer Partner
The disposal "turns the company from loss-making into profit-making immediately," UOB-Kay Hian Holdings Ltd. analyst Renee Tai said, adding beer is China Resources Enterprise's crown jewel due to its "solid market share".
The retail arm, which includes hypermarkets, supermarkets and convenience stores, reported an underlying loss of HK$1.4 billion in 2014, compared with the beer unit's HK$761 million in profit. The sale turns China Resources Enterprise "into a beer-focused business that owns the best-selling beer brand in the world since 2008 by sales volume, unburdened from the previous conglomerate structure," it said.
The company partnered with SABMiller Plc to brew Snow Beer in 1994, and that brand became the world's biggest by volume when it overtook Bud Light in 2008, according to London-based SABMiller's website.
China Resources Enterprise operates 98 beer-making factories, able to produce 200 million hectoliters (5.3 billion gallons) a year, Chief Financial officer Frank Lai said in Hong Kong. The beer unit is set to penetrate further into China's third and fourth tier cities, according to the company.
Reduce Capital
The disposal price is 5.6 percent higher than the HK$26 billion value of the non-beer businesses, while the share offer gives a 33 percent premium to the estimated HK$9.50 per share value for the remaining beer business, Jessie Guo, an analyst at Jefferies Hong Kong Ltd., wrote in a note. China Resources Holdings will boost its stake in the listed company to 62 percent, from 52 percent, following the deal.
China Resources Enterprise expects to realize an unaudited pretax loss of HK$6.8 billion on the deal, due to the disposed assets, transaction costs, and the release of its reserves. As part of the deal, the company will also reduce its capital by at least HK$10 billion, which will then be credited to its distributable reserves.
Shareholders who receive the offer and special dividend will receive HK$24.20 per share, a 59.2 percent premium to last closing price. The shares had as of April 8 plunged 41 percent since the company's announcement in August 2013 to merge with Tesco's loss-making China unit.
China Resources Enterprise today also said it will hand out a special dividend of HK$11.50 a share, which its parent will use to pay for the asset purchase. The parent will pay HK$13.6 billion in cash for the non-beer assets, with the remaining sum to be paid upon receipt of its share of the special dividend, China Resources Enterprise said.
China Resources Enterprise has struggled to integrate Tesco's stores in China, with the CFO Lai saying last month that turnaround for the venture may take three to four years.
Before it's here, it's on the Bloomberg Terminal.
LEARN MORE