Desisa of Ethiopia, Rotich of Kenya Win Boston Marathon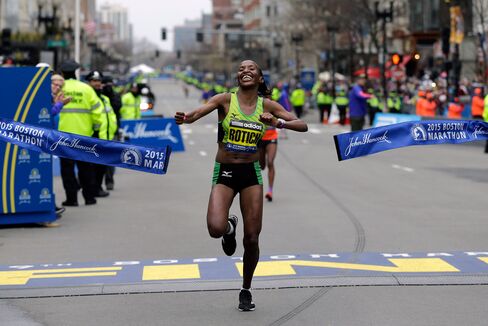 Lelisa Desisa of Ethiopia won the 119th Boston Marathon in a time of 2 hours, 9 minutes and 17 seconds, pulling away at the 25-mile mark of the 26.2-mile race. Caroline Rotich of Kenya won the women's race in 2:24:55.
Desisa, who won in 2013 and gave his medal back to the city to honor victims of the bombing, is the fourth Ethiopian to win the men's race in the past 11 years.
"I am happy to win, for number one and for a strong Boston," Desisa, 25, said in a televised interview after the race.
Dathan Ritzenhein was the top-finishing American male, placing seventh in 2:11:20. Meb Keflezighi, who won last year to become the first American winner since Greg Meyer in 1983, finished eighth in 2:12:42.
In the women's race, Rotich outkicked Mare Dibaba of Ethiopia over the final 100 meters to win by 4 seconds.
"I am so grateful," Rotich, 30, said in a televised interview after the race. "I have been waiting for this and training and training. When we came around this last corner I felt like 'yeah, I want to do this' and I couldn't let it go."
Rotich is a two-time winner of the New York City Half Marathon.
A Kenyan or Ethiopian has won 16 of the past 18 women's races. No American woman has won the Boston Marathon since Lisa Larsen Weidenbach took the women's race in 1985. Desiree Linden was the top American woman, finishing fourth, 44 seconds behind Rotich.
Bombing Verdict
A forecast of rain and high wind didn't materialize, making for favorable racing conditions. It was 45 Fahrenheit (7.2 Celsius) at the start with light wind.
The race from Hopkinton, Massachusetts, to Boston took place 13 days after Dzhokhar Tsarnaev, a 21-year-old former college student, was convicted of carrying out bombings near the finish line in 2013, killing two women and an 8-year-old boy. At least 260 others were wounded.
A jury now will decide to sentence Tsarnaev to death or life in prison. His older brother, Tamerlan, died in a shootout with police four days after the bombings.
This year's race had a total of 30,251 runners, including 13,751 women. The number of participants was down from 2014, when the Boston Athletic Association expanded the field by about 9,000 runners, to almost 36,000, to accommodate for runners who were unable to finish in 2013 due to the bombings.
In the wheelchair division, Marcel Hug of Switzerland won the men's push-rim wheelchair race in 1:29:53, while American Tatyana McFadden won the women's wheelchair race (1:52:54) for the third consecutive year.
Before it's here, it's on the Bloomberg Terminal.
LEARN MORE