Baring Private Equity Said to Near Deal to Buy 40% of Weetabix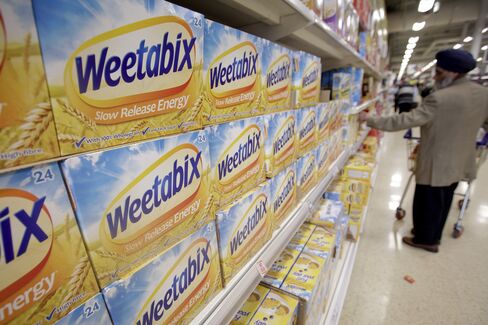 Baring Private Equity Asia is nearing an agreement to buy about 40 percent of Weetabix Ltd., the cereal brand controlled by China's Bright Food Group Co., people with knowledge of the matter said.
The deal would value the British maker of Alpen muesli at about 1.28 billion pounds ($1.9 billion) including debt, or about 10 times last year's earnings before interest, taxes, depreciation and amortization, according to one of the people. The purchase is subject to Chinese regulatory approvals and could still fall apart, another person said, asking not to be identified as the information is private.
Under the proposed deal, Bright Food is first buying the 40 percent of Weetabix it doesn't already own from Lion Capital, after the U.K. private-equity firm exercised an option to sell its remaining holding, according to one of the people. Baring would then buy that stake from Bright Food, leaving the Chinese foodmaker with 60 percent of Weetabix after the series of transactions, the person said.
Baring's investment would bring Weetabix an international partner as Bright Food seeks to boost the brand's sales in Asia. The private-equity firm last year bought a minority stake in Cath Kidston Ltd., the U.K. clothing and houseware purveyor, and joined a $270 million investment in a meat-processing arm of China's state-owned Cofco Group, data compiled by Bloomberg show.
Pan Jianjun, a spokesman for Bright Food, said by phone he can't confirm the deal. Richard Barton, a spokesman for Baring at Newgate Communications LLP in Hong Kong, and Shona Prendergast, a spokeswoman for Lion, declined to comment.
Shanghai Backing
Baring previously invested in Hsu Fu Chi International Ltd., a Chinese candy maker now controlled by Nestle SA, and international-school operator Nord Anglia Education. Last year, it teamed with Altas Partners to buy a $750 million stake in St. George's University LLC, which runs a medical school on the Caribbean island of Grenada, according to data compiled by Bloomberg.
Bright Food, which is backed by the Shanghai government, bought an initial 60 percent of Weetabix from Lion Capital in 2012. It has also acquired controlling stakes in Australia's Manassen Foods, Israel's Tnuva Food Industries Ltd. and New Zealand's Synlait Milk Ltd.
Baring in February announced the closing of its fifth fund at $3.988 billion, which is 60 percent larger than its previous pool of capital raised in 2011. The latest fund targets companies in Asia, as well as those in Europe and North America with growth plans in Asia, it said at the time.
The private-equity firm has more than 30 portfolio companies in Asia with a total of 95,000 employees and about $30 billion in sales last year, according to a company statement.
Before it's here, it's on the Bloomberg Terminal.
LEARN MORE