UKIP Aiming to Reach Forgotten Voters to Gain Southeast Foothold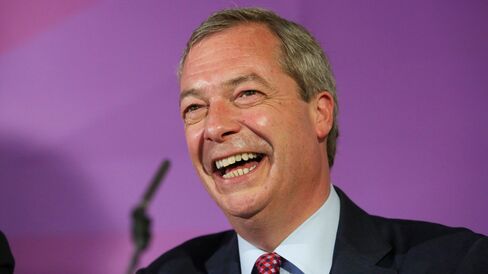 The U.K. Independence Party's fight to win seats in the House of Commons in the May 7 election is running up against a familiar problem for insurgent parties: getting people to the ballot box.
The party, which seeks withdrawal from the European Union and caps on immigration, is third in national opinion polls and UKIP's leader, Nigel Farage, says its challenge is to mobilize people who don't normally vote. Because the party's greatest appeal is to those who feel disillusioned with mainstream politics, that means persuading people who don't see the point.
"I've knocked on a large number of doors, but not enough," said Tim Aker, the UKIP candidate for Thurrock, a constituency east of London that's one of just three the party is favored to win by bookmaker Ladbrokes Plc. "I've got 80,646 voters according to the latest electoral roll that I've got to get into contact with. I'll keep knocking until 10 o'clock on May 7."
UKIP must win districts like Thurrock if it's to translate its 13 percent support in opinion polls into a meaningful presence in Parliament. Because the British electoral system is based on winning individual seats rather than proportional representation, that means getting voters out in particular areas. UKIP has to do it without information on local voting patterns which its opponents have built up over decades.
Battle Organization
"UKIP are very untested in that sort of battle organization: they have no experience of delivering election- winning turnout," said Rob Ford, a senior lecturer in politics at the University of Manchester. "You would expect someone who's not in the habit of voting to carry on not voting. It's harder to get them to the ballot box."
With polls showing neither Prime Minister David Cameron's Conservatives nor Ed Miliband's opposition Labour Party in a position to win enough seats to form a government alone, they will be dependent on minor parties, making every extra UKIP seat a potential bargaining-chip.
"Our challenge is to get those people out there that don't usually vote, but agree with us, to go down to the polling station on May 7," Farage said at the launch of his party's manifesto in Thurrock on April 15. "That is our key to success."
And the scale of the challenge is clear. Four of 12 voters approached by Bloomberg in Chafford Hundred, an affluent part of Thurrock with tidy, modern housing, said they didn't plan to vote at all. One man, cleaning a caravan in his driveway, said he'd rather walk his dog.
"Not Truthful"
"I don't feel as though any of the parties are truthful," said Shakira Hughes, 24, who didn't vote in 2010 and doesn't plan to do so in May. "We are given the idea of choice but I don't feel we really have a say."
Thurrock has been a bellwether constituency since 1997, voting for the party that's been in power. Since 1945, it's been a Labour seat for all but 10 years. For the past five, it's been represented by Conservative lawmaker Jackie Doyle-Price, who eked out a victory in 2010 by just 92 votes, one of the slimmest margins in the country.
"I don't think the Conservatives or Labour have done anything," said Les Gamester, 67, a retired health-care assistant, who plans to vote UKIP. "All they've done is talk about the issues, but they've not actually addressed the problems. UKIP speak a lot more to common-sense issues."
Swing Voter
Gamester is the sort of swing voter UKIP is trying to attract. He voted for Nick Clegg's Liberal Democrats in 2010, Tony Blair's Labour administration in 1997 and Margaret Thatcher's Conservatives in 1979. Now, he says, "I will never vote for any of the three major parties again."
Britain's seat-by-seat, first-past-the-post electoral system makes it hard for smaller parties to break the stranglehold of the Conservatives and Labour. The Liberal Democrats, currently in coalition with the Tories, won less than 9 percent of the seats on 23 percent of the national vote in 2010.
Ladbrokes gives odds of 4/6 for a UKIP win in Thurrock, meaning a one-pound stake would yield a 1.67-pound return. The odds for Labour and the Conservatives are 9/4 and 9/2 respectively.
"Demographically it's perfect for them," said Matthew Shaddick, head of political odds at Ladbrokes. "They need areas with a white, older population and areas where economically things aren't going quite as well as they might. Their supporters tend to feel alienated from the political system ."
Outsider Status
While UKIP's outsider status is appealing to some voters, it has made others cautious about backing the party.
"UKIP are making inroads, but they're not going to get in yet," said Nicola O'Keefe, a 43-year-old IT project manager who plans to vote Conservative. "I might consider them five years down the line when they've grown that little bit more."
Others in Thurrock said they wouldn't contemplate supporting the party.
"I would never vote UKIP," said June Hall, a 74-year-old retired midwife who plans to back Labour. "I don't trust Farage at all. I don't think he's got the right policies for anybody."
Aker, the UKIP candidate, is following tactics successfully used in the past by the Liberal Democrats and campaigning mainly on local issues, including the degradation of town centers in the constituency.
"We've seen our high streets declining, shops closing down: we've been forgotten," said Aker, who is also a UKIP member of the European Parliament. "I'm the only local candidate on the ballot paper, I've seen the changes and we can make a real difference here."
Before it's here, it's on the Bloomberg Terminal.
LEARN MORE