Sudan's Voter Turnout in Presidential Elections Reaches 40%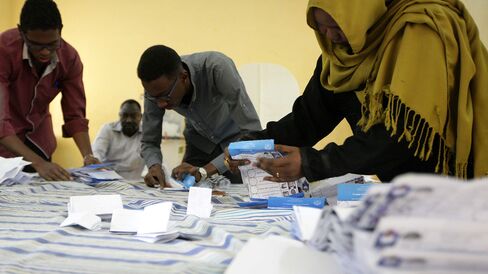 About 40 percent of voters cast a ballot in Sudan's presidential elections, Khartoum-based TV channel Ashorooq reported Sunday, citing the electoral commission.
Turnout was generally low during the voting days from April 13-16, the African Union said in a statement Saturday. Sudan's election was extended by a day to encourage the 13.8 million registered voters to cast a ballot.
Rebels in the south fired rockets at major towns in an effort to disrupt the polls. Sudanese police killed one rebel and captured two others who were trying to disrupt operations in the Diffra oilfield, police spokesman General al-Serr Ahmed Omar said by phone from Khartoum.
President Umar al-Bashir, who has ruled for a quarter century, is widely expected to win. The main opposition parties didn't field candidates. Results will be announced on April 27.
Before it's here, it's on the Bloomberg Terminal.
LEARN MORE