Gandhi Returns to India to Lead Fight Against Modi Land Bill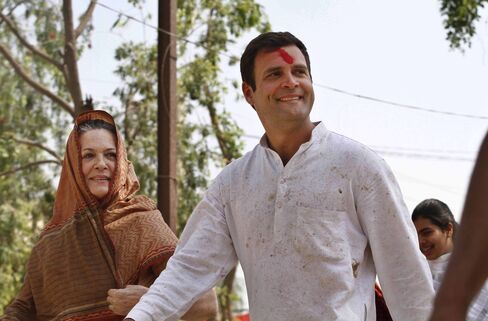 Rahul Gandhi, the heir to India's most famous political family, sought to rally farmers against the government's land acquisition bill as he looks to revive his party's popularity following a mysterious two-month absence.
At a rally on Sunday before more than 1,000 farmers in New Delhi, Gandhi accused Prime Minister Narendra Modi of giving away farmland to industrialists who supported him during last year's election. The rally sets the stage for an acrimonious parliament session starting today.
"You treat your land as your mother," Rahul Gandhi, 44, said at the rally as Sonia Gandhi, his mother and the Congress party's president, stood nearby. "These lands are gold and will be more valuable than gold in the future. The Congress party will stand firmly by you when they snatch your land."
Congress sees the land bill as a chance to regain some political momentum as Modi's moves to revive economic growth have yet to resonate with the majority of Indians who live on less than $2 per day. Expectations that Modi will make it easier to do business in India have helped put the country's benchmark stock index among the world's best performers in the past year.
Modi responded almost immediately to Gandhi's latest charges, defending his government's record of helping the poor in a meeting of party officials on Sunday. The BJP has already begun campaigning for an election later this year in the state of Bihar that could affect the pace of Modi's reform push.
"Hold your head high, be confident and tell the people what we are doing for them," Modi said. "All decisions that I am taking are for the welfare of the poor."
$392 Billion
Infrastructure and other projects needed to spur economic growth have stalled since the previous government passed a law in 2013 that required the consent of more than 70 percent of farmers for most land acquisitions. The estimated backlog of investment in power plants, factories and mines awaiting approvals climbed to about $392 billion in March, according to the Project Monitoring Group, a government body.
Modi issued a temporary order in December exempting investments in defense, rural infrastructure, affordable housing, industrial corridors and government partnerships from the need to obtain consent.
While the bill to make the measure permanent was approved in the BJP-dominated lower house of parliament last month, it has been stuck in the upper house where Modi's coalition doesn't have enough support. Congress has rallied other opposition parties to block the bill.
Modi appealed for cooperation from opposition parties as parliament resumed Monday. Giriraj Singh, a minister in Modi's cabinet, apologized for derogatory comments he made this month against Sonia Gandhi. Parliament was adjourned briefly as Congress party lawmakers protested against the remarks and the land bill.
Rahul's Absence
"The land issue is very critical and has tremendous potential to challenge what the government is doing," said Sandeep Shastri, pro-vice chancellor of Jain University in Bengaluru. "But given the fact that politics is a 24-7 vocation, people won't be enthused by a leadership which believes in the switch-on, switch-off approach."
Rahul Gandhi's latest leave of absence illustrates the Congress party's troubles. The son, grandson and great grandson of Indian prime ministers left the country on Feb. 23 without telling the nation of 1.2 billion people his travel plans, prompting the local press to speculate on his whereabouts.
'Reluctant Leadership'
He arrived back to India last week on a Thai Airways flight from Bangkok, Press Trust of India reported on April 16. Congress Party spokesman P.C. Chacko defended Rahul Gandhi's trip to reporters, saying "every individual has a right to privacy, and we must respect that."
Despite his position as heir apparent of the political party that has run India for most of its history, Rahul Gandhi has shunned the public spotlight. He rarely speaks to the media, turned down a cabinet post in the last government and refused to be a prime ministerial candidate for elections last year.
The bachelor politician has spoken only once in legislative debates and missed more than half of parliament sittings in the last one year, according to PRS Legislative Research, a research group that tracks the body.
"The rally addressed by the reluctant leadership is not going to magically revive the Congress," said Ajoy Bose, an author who has written about Indian politics for four decades. "It'll just help in its survival and keep the party in play."
(An earlier version of this story corrected the spelling of the Congress party spokesman's name.)
Before it's here, it's on the Bloomberg Terminal.
LEARN MORE