Overdue Payment Crackdown, New CEO Combine to Boost Eskom Bonds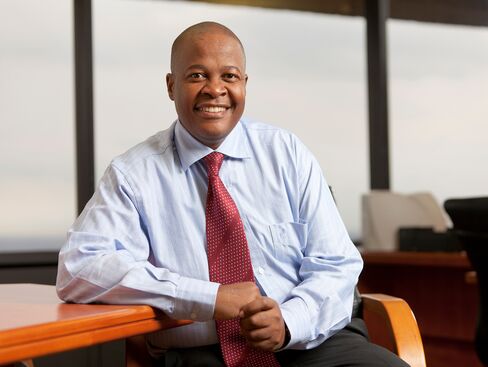 A new chief executive officer who has helped turn around another state-owned company and a deadline to recover debt from municipalities are pleasing investors in bonds of Eskom SOC Holdings Ltd., South Africa's power utility.
The country on Friday named Brian Molefe, CEO of state logistics operator Transnet Holdings SOC Ltd., to head the provider of about 95 percent of the nation's power after its board suspended the top executive at the company, Tshediso Matona, and three other managers. The company, which is staging the longest spate of rolling blackouts since 2008, is owed 4.6 billion rand ($387 million) by local districts and plans to cut supply to the top 20 defaulting municipalities if they don't come up with a payment plan by June 5.
"Any news that comes out of Eskom indicating a degree of stability is a positive development," Elena Ilkova, a Johannesburg-based analyst at FirstRand Ltd.'s Rand Merchant Bank unit, said by phone April 17. "They're waving a big stick" at municipalities, she said. "It's a very strong signal that's backed by government, so that's positive."
Yields on Eskom's $1 billion of bonds due February 2025 declined 14 basis points to 6.59 percent, the lowest level in a month, since the utility announced plans to cut power to non-paying areas for as many as eight hours a day. The rate fell 5 basis points after Molefe's appointment was announced. That compares with a 4 basis-point drop in dollar debt of emerging-market utilities, JPMorgan Chase & Co. indexes show.
Rolling Blackouts
Eskom has undertaken 28 days of rolling blackouts this year as its aging fleet of power plants struggles to keep up with demand in the continent's most-industrialized economy.
It's also grappling with a 225 billion-rand funding shortfall in the five years to March 2018 and will receive 23 billion rand from the National Treasury in coming weeks, Public Enterprise Minister Lynne Brown said April 17. The utility failed to adequately invest in power generation in the 20 years since 1994.
The 20 districts earmarked for cutoff, which collectively owe Eskom about 80 percent of the outstanding amount, cover 3.8 million people, or 7 percent of the country's population, Statistics South Africa data show. Towns and cities affected include coal-rich Witbank to the east of Johannesburg, Secunda to the south and Klerksdorp and Randfontein, which lie west of the economic hub.
Massive Scale
While it's not the first time Eskom has threatened to restrict non-paying municipalities' access to power, it hasn't done so "on such a massive scale before," Ilkova said. Eskom supplies districts that then distribute power to consumers, meaning paying customers would also be cut off.
"That's very harsh if you've paid your bills," she said. South African homes typically rely on electricity for heating and cooking, rather than gas.
Industrial users won't be affected as most of them receive their power directly from Eskom, not via local distribution networks, according to Shaun Nel, a spokesman for the Energy Intensive Users Group of South Africa, which speaks for 31 of the country's largest electricity users.
Some of the affected districts use the funds collected from electricity users to settle other bills, Brown said.
Taking Action
"Many of these municipalities have systemic problems some of them are not actually viable," she said. If the areas don't respond, Eskom's board is "going to act against the municipalities. I'm hoping it doesn't get to that."
Randfontein, which owes 81.7 million rand, has submitted a repayment plan to Eskom and is awaiting its approval, council spokesman Tshidiso Tlharipe said by e-mail. The municipality is itself owed 224 million rand from residents for taxes and services, Tlharipe said.
Madibeng in the North West province, the biggest of the top 20 defaulting municipalities with 477,000 people, signed a repayment agreement with Eskom April 10, regional spokesman Sipho Nkosi said by e-mail. The district "is servicing the poorest of the poorest communities -- as a result, it's difficult to collect the projected revenue," he said.
Thaba Chweu in Mpumalanga is making a "concerted effort" to pay Eskom, while Govan Mbeki in the same province is negotiating a payment plan, spokesmen for the districts said by e-mail. Makana in the Eastern Cape has agreed to pay the debt in monthly installments, spokeswoman Yoliswa Ramokolo said. Matlosana in the North West province, with 398,000 people, signed an agreement for repayment in January, spokeswoman Ntswaki Makgetha said.
All other municipalities didn't respond to requests for comment.
Getting customers to pay their bills is "a step in the right direction," Ilkova said. "But it won't solve Eskom's long-term problems overnight."
Before it's here, it's on the Bloomberg Terminal.
LEARN MORE