Refugee Boat Tragedy Raises Pressure on EU Leaders to Act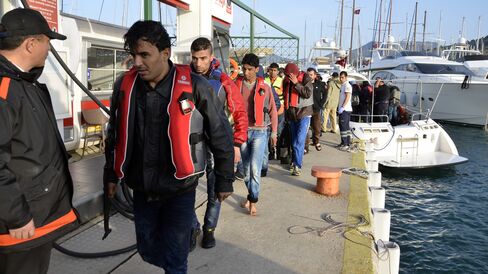 The capsizing of a boat carrying hundreds of refugees on the Mediterranean Sea raises pressure on European governments to ratchet up search and rescue measures to save migrants fleeing conflict in Africa and the Middle East.
European Union foreign ministers meet on Monday as the continent races to address a humanitarian crisis that critics say the bloc's governments helped create. Italian Prime Minister Matteo Renzi said 25 bodies have been recovered and 28 people have been rescued from the ship that that capsized late Saturday off the Libyan coast. A survivor told Italian officials there were 950 people on board, the news agency Ansa reported. Renzi said determining the exact number may be impossible.
"The main issue here is to build together a common sense of European responsibility on what is happening in the Mediterranean, knowing that there is no easy solution, no magic solution," European Union foreign policy chief Federica Mogherini said before the EU meeting in Luxembourg.
Conflict-wracked Libya is being used by growing numbers of refugees as an embarkation point to reach Europe. More than 35,000 asylum seekers and migrants have already arrived by boat this year, according to the Office of the United Nations High Commissioner for Refugees. If the toll of the latest tragedy is confirmed, about 1,600 people will have died in 2015, the office said in a statement. That compares with 3,500 deaths and 219,000 successful crossings in 2014, it said.
Locked Up
Maltese Prime Minister Joseph Muscat said accounts given by survivors were "haunting" and that migrants on the doomed boat were packed on two decks, with those on the lower deck locked in the hold.
"A mass grave is being created in the Mediterranean Sea and European policies are responsible," Loris De Filippi, president of the Italian branch of the medical humanitarian group Doctors Without Borders said in an e-mailed statement. "Faced with thousands of desperate people fleeing wars and crises, Europe has closed borders, forcing people in search of protection to risk their lives and die at sea."
Italy and Malta, the closest European countries to the doomed vessel, deployed navy and coast guard ships Sunday to find survivors.
"We need to take bold actions to deal with the growing migration crisis," Dimitris Avramopolous, Europe's commissioner for migration, said in a statement on Sunday.
Departed Zuara
The UN agency quoted Maltese authorities as saying 700 people were on board when the vessel left the Libyan port of Zuara. A Maltese military official, who asked not to be identified, said the boat capsized about 61 nautical miles (113 kilometers) north of Libya late Saturday.
Italian news reports said the boat capsized when the passengers hoping to be rescued rushed to one side after spotting a merchant ship.
"Acting against human trafficking must stop being an Italian-only or a Maltese-only priority," said Renzi, who added that he discussed the latest sinking with counterparts including French President Francois Hollande and German Chancellor Angela Merkel and that he hopes an EU summit on migration can be held by Friday to follow up on Monday's talks. There's no decision on a possible EU summit.
Stabilize Libya
Renzi has called on Europe to help stabilize Libya and has offered to lead a UN-backed mission into the North African country should diplomatic efforts fail. Italians were among the last foreigners to evacuate Libya in February when the embassy in the capital Tripoli was forced to suspend its activities due to increased violence.
"No solution to the migrant crisis can be found without a stabilization in Libya," Renzi told reporters on Sunday.
Hollande said in a Canal Plus television interview that he had called Renzi "to see how we can act urgently."
"The Mediterranean is a sea we share, between Africa and Europe, so we have to act. More boats, more overflights with planes and a much more intense fight against the trafficking," Hollande said.
In Greece, a wooden sailing boat carrying undocumented immigrants ran aground in the Zephyros coastal area of Rhodes, the Greek coastguard said today in a text message. Three bodies were recovered from the sea of a man, a woman and a child, the coastguard said, adding that 49 people have been rescued so far, of whom 30 have been transferred to hospital.
Italy Focus
Italy has faced a wave of migrants and refugees from Africa and the Middle East who board unseaworthy vessels in Libya, paying traffickers to take them across the Mediterranean to seek refuge in Europe. Italian politicians have been seeking international support to cope with the influx.
"The problem is not the control of the sea, it is rather to destroy the human traffickers, the 21st century's new slaveholders," Renzi said in a post on Twitter after meeting earlier in the day with Mogherini in Rome.
Doctors Without Borders and other groups have repeatedly urged EU nations to undertake large-scale search and rescue activities to avoid more deaths at sea.
"If confirmed, this would be the largest tragedy ever in the Mediterranean involving migrants," Malta's Muscat said in a telephone interview. "Nobody should be allowed to die this way."
Before it's here, it's on the Bloomberg Terminal.
LEARN MORE