Dubai World Said to Repay $2.92 Billion in Debt Makeover Deal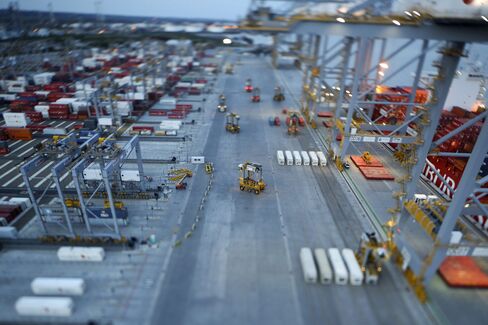 Dubai World, the state-owned company that roiled global markets in 2009 with a plan to freeze debt payments, paid $2.92 billion to creditors under a deal reached in February, two people with knowledge of the matter said.
The payments were made late last month, said the people, asking not to be identified because the information isn't public. Under the new agreement, which altered the original deal of March 2011, Dubai World pledged early payment of loans due in September, according to a company statement in February.
Dubai World, whose assets include ports operator DP World Ltd. and shipyard Drydocks World LLC, was one of many companies in the emirate that delayed debt payments after credit markets froze and asset prices slumped during the global financial crisis. It reached a deal with about 80 creditors in March 2011 to restructure $14.7 billion of debt, agreeing to repay $4.4 billion in September 2015 and $10.3 billion in 2018.
"This is a big confidence-booster for the market," Naveed Ahmed, an analyst at Global Investment House KSCC, said by phone from Kuwait. "The repayments will help reduce the exposure to government-related entities for banks such as Emirates NBD."
Banks including HSBC Holdings Plc, Standard Chartered Plc, Emirates NBD PJSC and Abu Dhabi Commercial Bank PJSC were among the biggest creditors to Dubai World. The 2011 restructuring deal pushed them to set aside money to absorb losses.
State-controlled Emirates NBD, the United Arab Emirates' second-biggest bank, said in January its bad loans ratio improved when it reclassified its exposure to Dubai World as performing. A majority of Dubai World's creditors had agreed to the plan that month.
In the new deal, Dubai World extended the 2018 maturities to 2022, increased pricing, introduced amortization targets and provided additional collateral. The company repaid part of the $4.4 billion originally due this year after selling some assets including its Atlantis, The Palm resort in Dubai and its 50 percent stake in the Fontainebleau Miami Beach resort.
A spokesman for Dubai World declined to comment on Sunday.
Before it's here, it's on the Bloomberg Terminal.
LEARN MORE