China's Xi Pours Money Into Pakistan, His 'All-Weather' Friend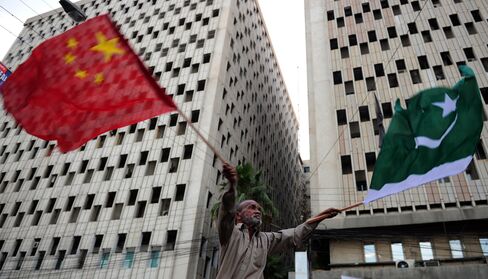 President Xi Jinping promised to build roads, ports and power plants on the first visit by a Chinese head of state to Pakistan in almost a decade.
Xi and Pakistani Prime Minister Nawaz Sharif witnessed the signing of 51 pacts on Monday, including an ''All-Weather'' strategic partnership that seeks to formalize longstanding defense ties between the nations. The agreements signed were valued at $28 billion, according to Pakistani Planning Minister Ahsan Iqbal.
"It is a watershed in the history of our relations," Sharif said Monday in a briefing with Xi. "We have taken momentous decisions that will raise Pakistan-China relations to new heights and have deep and far reaching impact for our common economic future and peace and stability in the region."
Xi's trip helps Sharif shore up economic ties with a key trading partner at a time when relations are strained with Pakistan's top oil suppliers. Sharif has sought to avoid joining a Saudi-led coalition fighting Iran-backed rebels in Yemen, prompting a backlash from Sunni-led countries in the Gulf.
The $28 billion in investments is nearly equal to the amount of foreign aid the U.S. has provided to Pakistan over the past decade to support its war in Afghanistan. The U.S. has given $31 billion to Pakistan in security and economic funds since 2002, according to the Congressional Research Service.
If realized, the investments will help Sharif revive Pakistan's economy, which suffers from chronic power failures and an insurgency that has killed more than 50,000 people since 2001. Sharif has received a loan from the International Monetary Fund to help put the country's finances back on track.
'Friendly Ties'
While China overtook the U.S. as Pakistan's biggest trade partner in 2010, it has also expanded commerce with India in that time. China's trade with India reached $69 billion in 2013, more than four times great than with Pakistan, according to data compiled by Bloomberg.
"The purpose of my visit to Pakistan is to cement friendly ties," Xi said at a joint news conference with Sharif in Islamabad.
China sees Pakistan as a key part of efforts to access the Indian Ocean over land to boost trade with Europe, Africa and the Middle East. The contracts reached are part of a planned $45 billion economic corridor stretching 3,000-kilometers (1,850 miles) starting in China's western Xinjiang region and running to the Chinese-funded Gwadar port on the Arabian Sea in Pakistan.
Under the plan for the corridor, Chinese companies will invest $22.5 billion in coal-fired, hydro, wind and solar energy projects in Pakistan, with China's government providing concessional loans for infrastructure projects.
'Very Significant'
"It's very significant," said Mohammed Sohail, chief executive officer of Topline Securities in Karachi. "It can bring a big change for all our economic fundamentals, in particular in energy."
The two sides signed agreements and inaugurated projects in energy, transport infrastructure and economic cooperation. They also pledged to increase defense cooperation, fight terrorism and help bring peace to Afghanistan. The two nations may conclude the sale of eight Chinese submarines, more than doubling Pakistan's fleet.
Xi met the chiefs of Pakistan's armed forces chiefs and called the operation against militants near the Afghan border a game changer in bringing peace, army spokesman Major General Asim Bajwa said on Twitter. Xi also pledged to contribute in the effort, Bajwa wrote, without providing details.
China is viewed more favorably in Pakistan than in any other Asian country, Pew Research Center found in a poll conducted last year. Pakistanis gave a 78 percent favorable rating to China, compared with 14 percent for the U.S., the poll showed.
"Our cooperation in the security and economic fields reinforce each other, and they must be advanced simultaneously," Xi wrote in Pakistan's Daily Times on Sunday. "We need to deepen defense cooperation and enhance coordination and collaboration on regional hotspot issues."
Before it's here, it's on the Bloomberg Terminal.
LEARN MORE