Millionaire-Led Party Wins Finnish Vote Vowing to End Slump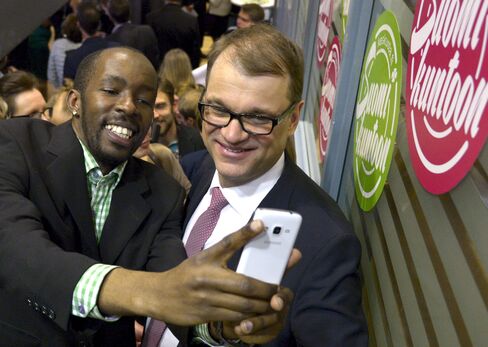 Finland's Center Party, led by self-made millionaire Juha Sipila, won national elections as Finns rejected the sitting coalition in their search for a path out of the country's economic sclerosis.
After three years of recession, the next government will need to repair the damage done by lost trade with Russia and the demise of a consumer electronics industry once led by Nokia Oyj. The decline of the paper industry has also wiped out thousands of jobs, leaving unemployment above 10 percent as economic growth hobbles along at half the euro-zone average.
Sipila, a 53-year-old engineer by training, has promised to inject new life into the $220 billion economy by creating 200,000 private-sector jobs over the next decade and promoting business-friendly policies including more predictable tax laws.
"There are no magic tricks," Sipila said in a broadcast on YLE TV1. "It's a 10-year project to fix the economy, get the economy competitive again. Balancing public finances is a second priority."
After standing shoulder-to-shoulder with Germany during the darkest hours of Europe's debt crisis, Finland has become one of the region's worst-performing economies. The Finance Ministry estimates that another 6 billion euros ($6.5 billion) of austerity measures are needed by 2019 to prevent debt reaching 70 percent of gross domestic product. It also says there's no scope to raise taxes without stifling growth.
Greek Rescue
Sipila, whose Center Party won 49 seats in the 200-member legislature, will try to form a majority coalition that may include the euro-skeptic The Finns party, which will be parliament's second-largest group with 38 seats. The two spent the last four years in opposition. Sipila may also need to turn to either the Social Democrats or the National Coalition of outgoing Prime Minister Alexander Stubb.
Stubb's party will have 37 seats in the legislature, while the Social Democrats will get 34.
Timo Soini, leader of The Finns, said his party will try to influence the new government's stance on European rescue packages, including talks with Greece.
"No one likes constructing these bailouts," he said in an interview.
Austerity isn't what splits Finland's political parties. All major groups have pledged some combination of belt-tightening and growth policies to address the challenges posed by Europe's fastest-aging population. Sipila has made clear he favors spending cuts after ruling out higher taxes.
Brace Yourself
Stubb's administration tried to curb debt growth by raising taxes and cutting expenditure. Instead, the measures choked the economy and left a bigger relative debt burden to pay down. None of the government's economic pledges were borne out and Finland was stripped of its prized AAA credit rating in October by Standard & Poor's.
Stubb told Sipila to brace himself. "This isn't an easy job," the outgoing prime minister said on YLE TV1.
Sipila has warned that Finland still faces a tough decade. His party wants to continue budget cuts and to lower social security fees. It also plans to loosen labor market regulations to keep deficits from widening as it tries to stimulate growth.
Sipila says his proposed measures will ensure the debt-to-GDP ratio declines "within a couple of years."
"The situation will change over the next four years," he told YLE TV1. "We'll assess how we can change with the changing times."
Before it's here, it's on the Bloomberg Terminal.
LEARN MORE