Cameron Says Labour-SNP Pact 'Frightening' as Scots Woo Miliband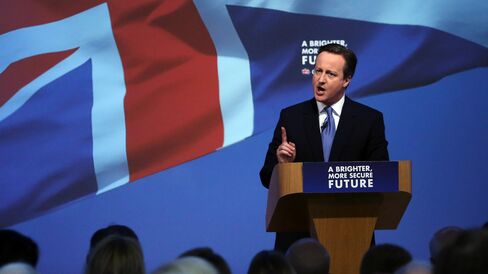 U.K. Prime Minister David Cameron said the possibility of a Labour government supported by the Scottish National Party was a "frightening prospect" if no political party wins a majority in next month's general election.
A majority for his Conservative Party is still within reach, Cameron said on the BBC's "Andrew Marr Show" on Sunday. SNP leader Nicola Sturgeon could work with Labour to "lock" Cameron out of office, she said on the same show.
"This would be the first time in our history that a group of nationalists from one part of our country would be involved in altering the direction of the government of our country," Cameron said. "I think that is a frightening prospect."
With two opinion polls on Sunday showing the Conservatives and Labour in the lead respectively, no party is on track to win an outright majority in the May 7 election. That means Cameron and Labour leader Ed Miliband will need to cooperate with smaller parties in forming a government.
An Opinium poll of U.K. voters for the Observer newspaper put the Conservatives on 36 percent and Labour on 32 percent. In contrast, a survey by YouGov Plc for the Sunday Times had Labour on 36 percent and the Tories on 33 percent. Most polls in the past week have put the two biggest parties neck-and-neck, suggesting the country is heading for another hung parliament.
With two and half weeks until the election, the parties are jostling to position themselves for what may come after. The Liberal Democrats, the junior partners in Cameron's current coalition government, are willing to work with either the Conservatives or Labour in a new administration, said Business Secretary Vince Cable, a member of the Liberal Democrats.
Common Ground
"We are willing to work with other parties in the national interest and we've shown we can do that," Cable said in an interview on Marr. "We will be able to find some common ground with Labour or the Conservatives."
While Labour's Miliband has ruled out an official coalition with the SNP, an agreement on a so-called confidence and supply or vote-by vote basis may be possible. The SNP's Sturgeon signaled that she may support such a deal.
"It is possible to change the direction of a government on individual issues without bringing that government down," Sturgeon said. "That puts a party like the SNP, if we have that influence, in terms of a very, very strong and powerful position."
The SNP currently has six of Scotland's 59 seats in the House of Commons, while Labour has 41. If the polls are correct, the nationalists would end up with more than 50. Under a confidence and supply deal, the SNP would agree to back Labour on the budget and on other key legislation in return for policy concessions.
Labour is "not going to start getting involved in coalitions or deals with a party that wants to break up the U.K.," Ed Balls, Labour's finance spokesman, said on Sky News. "There wouldn't be any input into Labour's first budget," the shadow chancellor said, adding there would be an "absolute 100 percent total firewall" in that respect.
Before it's here, it's on the Bloomberg Terminal.
LEARN MORE