Brits Fuel Benidorm Boom as Euro Drop Lures Sunseekers to Spain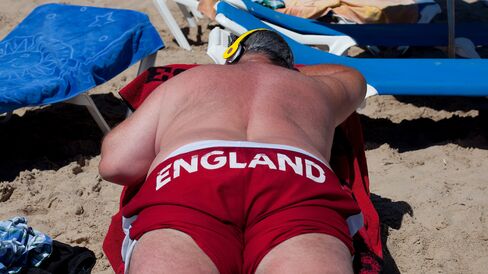 Tattooing Brits in sunny Benidorm is a booming business.
At Steve Hezzell's studio, trade in his store on Spain's Mediterranean coast is up 20 percent as the weaker euro lures tourists, and he's looking to add staff for the summer surge.
"We've had our best February ever," Hezzell said in an interview in his store near Avenida Mediterraneo, one block from the beach. "We're going to hire another tattoo artist and a body piercer to join us ahead of summer."
The single currency's slide to a seven-year low against the pound is fueling British spending on ink, drinks and partying by the sea. With tourism accounting for 11 percent of Spain's economy, that's providing a boon for Benidorm and the rest of the Costa Blanca coastline and helping the nation's recovery.
Tourism accounted for 25 percent of new jobs created in 2014, and the Bank of Spain predicts unemployment will fall from a crisis high of 27 percent to around 20 percent next year as a weaker euro drives the economy's expansion.
Along the coastline, studded with golden beaches and skyscraper hotels, local businesses are looking to capitalize on visitors with more cash to splash. Overnight stays from U.K. tourists are up 8 percent this year, according to Nuria Montes, secretary general of Hosbec, a tourism association representing Costa Blanca. While nightlife and hotels are among the first to benefit, the impact ripples out.
"For 1,000 pounds, they're getting close to 1,400 euros," Montes said. "That's having a positive impact on consumption."
'Free Euros'
The single currency has fallen more than 12 percent in the past year and reached 70.14 pence in March, the lowest level since November 2007. The euro fell 0.3 percent to 71.99 pence at 10:45 a.m. in London on Monday.
With visitor numbers on the up, it's not just hotels banking on the favorable exchange rate to keep boosting business into the summer holiday season.
Frank McDowell, founder of Just FK It, an organizer of pub crawls, foam parties and strip-club events, is hoping "free euros" at the bureau de change turn into profit for the nightlife industry. On a good night, he organizes parties for 300 customers from his office in Benidorm.
"For 15 euros, you can party all night and get five free shots," he said. "That's one drink back home."
Visitor Surge
Benidorm's life as a holiday destination began under Mayor Pedro Zaragoza in the late 1950s. Often credited as the man who transformed a fishing village into a resort, Zaragoza convinced dictator General Francisco Franco to open up Benidorm for tourism after decades of isolation.
Now the town of 69,000 people is deluged every year with foreign visitors looking for a good time. Ask McDowell what lures people, and he says it's a place where anything goes: Europe's equivalent to "what happens in Vegas."
"It's like a fairy tale," he said. "You get to do everything you wouldn't normally do back home."
A record 65 million tourists visited Spain last year, with the largest share, 15 million, coming from the U.K. In the first two months of 2015, spending by visitors rose an annual 8 percent to 6.6 billion euros ($7 billion) and Britons led the pack, splashing 1.1 billion euros, a 10.6 percent surge.
With its bright pink lights, Broadway is one of the dozens of clubs and karaoke bars running along Mediterraneo -- the epicenter of Benidorm's nightlife. For manager Ricardo Sanchez, who is already seeing a pickup in business, the town runs on British cash.
For a club like Broadway, a stronger sterling means more jagerbomb and Vodka-redbull cocktails are selling every night and more euros in the till. "Instead of having four, they'll make it six," Sanchez said.
"The weaker euro is helping," he said. "British tourists are very particular. Unlike the Germans, they like to spend every last cent of their holiday money."
Before it's here, it's on the Bloomberg Terminal.
LEARN MORE