Aussie Carry Trade Revival Adds to Headaches for RBA's Stevens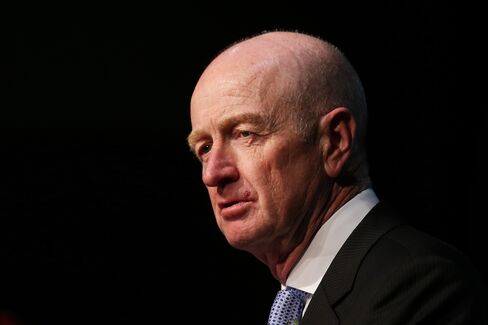 Add a resurgent carry trade to the list of things keeping Reserve Bank Governor Glenn Stevens from getting a weaker Aussie dollar.
A widening yield advantage on the nation's debt amid a drop in currency volatility is luring investors back to the strategy. Borrowing equally in yen and euros to buy Aussie earned 1.9 percent this month, after the same trade lost money in the first quarter. Expectations for swings in the Aussie are approaching the lowest levels this year as speculation grows that Australian and U.S. central banks will hold interest rates unchanged.
"In a world of zero and negative yields, Aussie stands out as king -- or if not king, certainly a member of the royal family," said Robert Rennie, global head of currency and commodity strategy in Sydney at Westpac Banking Corp. "Carry is here to stay for the foreseeable future."
Finance companies get paid to borrow money for a month in euros and yen in international markets and can use that cash to buy 10-year Aussie sovereign debt yielding 2.4 percent. The RBA has raised concerns that central bank bond-buying will prop up the Aussie at a time when the local economy needs depreciation to cope with slumping prices of iron ore, the country's biggest export earner. The local dollar extended its strongest two-week gain in a year Monday as Germany's average yields dropped below zero for the first time.
Foreign Ownership
Japanese investors bought a net 345 billion yen ($2.9 billion) of Australian sovereign debt in February, the most since August 2011, according to the latest data available from Japan's finance ministry.
Excluding debt held by the RBA, central banks owned 29 percent of Australia's public debt at the end of last year, Barclays Plc said, citing data from the International Monetary Fund. Overall, foreign investors owned 67 percent of the total, a level Barclays calls "very high."
"Japanese and European investors still stand out," said Kieran Davies, the British bank's Sydney-based senior economist. "Relative to other currencies, our interest rates are quite attractive."
The premium offered by Aussie debt over its triple A-rated peers rose to 1.64 percentage points Monday, the most in five weeks, and was headed for its biggest monthly increase since November 2013.
Global demand for Aussie assets is a problem for Stevens as he continues the call for a weaker currency while refraining from cutting rates amid a buoyant property market. Swaps traders lay 61 percent odds of a quarter point cut to a record 2 percent at the RBA's meeting on May 5.
75 Cents Ideal
Stevens identified 75 U.S. cents as his preferred exchange rate at the end of last year, before an additional 30 percent plunge in iron ore to below $50 per ton. The currency fell as low as 75.33 cents on April 2 before rebounding to as high as 78.43 cents.
"Stevens will have a lot to consider in May, and if the Aussie isn't falling, that's one one more problem for him," said Stan Shamu, a markets strategist at IG Ltd. in Melbourne. "With the Aussie yielding at these levels, there's still that opportunity for people to benefit."
Beyond Australia, the Federal Reserve's caution over raising U.S. rates for the first time since 2006 is also supporting the Aussie, and not simply because the greenback's rally has stalled.
Societe Generale SA analysts argue that the Fed's message has calmed currency markets, giving investors confidence that currency swings won't upend their carry trades.
A gauge of implied volatility in the Aussie-yen rate over the coming 12 months slid to 10.53 percentage points Monday, the least since Jan. 14. The equivalent measure for the euro-Aussie dipped to 10.06 on April 9, the lowest since Jan. 16.
"The Fed frankly does not want to rock the boat too much," said Alvin T. Tan, a foreign-exchange strategist at Societe Generale in London. "Anything with yield is a winner."
Before it's here, it's on the Bloomberg Terminal.
LEARN MORE