'Furious 7' Zooms Past $1 Billion, May Augur Record Summer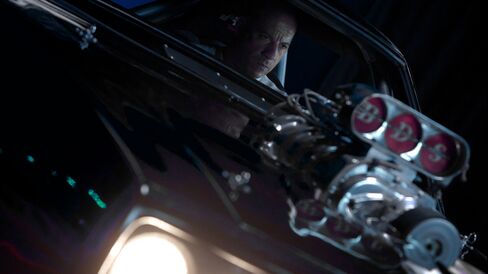 "Furious 7," the epic car-chase film featuring the late actor Paul Walker, cruised to a third straight win in U.S. and Canadian theaters and raised the possibility of record-breaking audiences this summer.
The film from Comcast Corp.'s Universal Pictures collected $29.1 million in domestic sales over the weekend, Rentrak Corp. said in an e-mailed statement Sunday. It beat competition from two new releases: "Paul Blart: Mall Cop 2" and "Unfriended."
The latest picture in the "Fast and Furious" series has set several marks since its debut three weekends ago, including the biggest-ever opening for April and the year. It is the top-grossing release of 2015 and became the fastest picture to reach $1 billion worldwide, according to Universal.
"This is why people go to the movie theater -- cool guys and beautiful women -- it's the universal language," said Paul Dergarabedian, an analyst at Rentrak, in a telephone interview Sunday. The film may spark records this summer, which typically accounts for 40 percent of the year's ticket sales.
"There's momentum in 'Furious' since everyone who went is being heavily exposed to marketing for the upcoming summer product," Dergarabedian said.
"It's good for the whole industry," he said. "This could be the first summer to approach the $5 billion or even exceed the $5 billion mark." That would beat 2013's record $4.75 billion.
Avengers Ahead
"Furious 7," the most successful film of the series, will remain unchallenged by any action movie until Walt Disney Co.'s "Avengers: Age of Ultron" opens on May 1. It had been forecast to collect $32 million over the weekend, according to BoxOffice.com.
The film crossed $1 billion in worldwide sales on Friday, Universal said in an e-mail. It is highest-grossing Universal film in the studio's 103 years.
"What started as a small film about the street racing sub-culture of East Los Angeles has become a global phenomenon, with 'Furious 7' shattering records in so many territories around the globe," Duncan Clark, Universal's president of international distribution, said in a statement.
"Paul Blart: Mall Cop 2," a comedy sequel from Sony Corp., opened in second place and collected $24 million, according to Rentrak. It had been predicted to garner $27.5 million, the estimate of BoxOffice.com.
Segway Rider
Kevin James reprises his role as the Segway-riding mall cop who has been keeping shopping centers safe for six years since the first installment was released in 2009. He again co-wrote the script.
In the new film, Blart takes a vacation to Las Vegas with his teenage daughter before she leaves for college. He attends a security guard convention and an attempted heist breaks up his plans. The film tracks his travails.
The movie cost about $30 million to make, according to Box Office Mojo. That's about $4 million more than the first film, which generated $183 million worldwide. This time Andy Fickman takes the directing chair. His last feature film was "Parental Guidance" with Billy Crystal.
The film had no positive reviews at Rottentomatoes.com.
"Far from the worst movie that you'll ever see, but you might leave wondering why you, the people on the screen, or anyone else in the theater even bothered," Kevin Sullivan, wrote in Entertainment Weekly.
Social Obsession
The horror film "Unfriended" opened with sales of $16 million for third place. The movie plays on the modern obsession with social media. The R-rated teen release, also from Universal, was liked by critics, receiving 64 percent positive reviews at Rottentomatoes.com.
"It's not the B-movie gore-death scenes that make 'Unfriended' squirm-inducing, it's how it taps in and holds on tight to how annoying the Internet and computers can be, especially when they're being tinkered with," Hazel Cills wrote in a review for Grantland.
"Unfriended" unfolds on a teenager's computer screen as she and her friends are stalked by a figure seeking revenge vengeance for a shaming video that led a bully to kill herself a year earlier. It had been forecast to garner $20.5 million by BoxOffice.com.
Universal acquired the film after seeing how a test screening terrified the audience, according to the movie's official website. The picture was developed and conceived by filmmaker Timur Bekmambetov and directed by Levan Gabriadze. Horror specialist Jason Blum was executive producer.
Weekend sales for the top 10 films fell 6.8 percent to $108.4 million from a year earlier, Rentrak said. Sales for the year to date have increased 4.9 percent to $3.09 billion.
The following table has U.S. movie box-office figures provided by studios to Rentrak. The amounts are based on actual ticket sales for April 17, 18 and estimates for Sunday.
                  Rev.    Pct.           Avg./      Total
   Movie         (mln)    Chg. Theaters  Theater    (mln) Wks
================================================================
1 Furious 7       29.1    -51    3,964    7,330    294.4    3
2 Paul Blart      24.0     --    3,633    6,606     24.0    1
3 Unfriended      16.0     --    2,739    5,850     16.0    1
4 Home            10.3    -44    3,488    2,953    142.6    4
5 Longest Ride     6.9    -47    3,371    2,032     23.5    2
6 Get Hard         4.8    -41    2,655    1,819     78.3    4
7 Monkey Kingdom   4.7     --    2,012    2,343      4.7    1
8 Woman In Gold    4.6    -16    2,011    2,281     15.9    3
9 Divergent Series 4.2    -38    2,542    1,633    120.6    5
10 Cinderella      3.9    -46    2,414    1,604    186.3    6



Top 10 Films Grosses



   This Week     Year Ago      Pct.
     (mln)         (mln)       Chg.
===================================
    $108.4        $116.3      -6.8



Year-to-date Revenue



     2015          2014
      YTD           YTD        Pct.
     (mln)         (mln)       Chg.
===================================
    $3,094        $2,949       4.9

Source: Rentrak Corp.
Before it's here, it's on the Bloomberg Terminal.
LEARN MORE