Videgaray Says Mexico to Hedge 2016 Oil Exports, Limit New Debt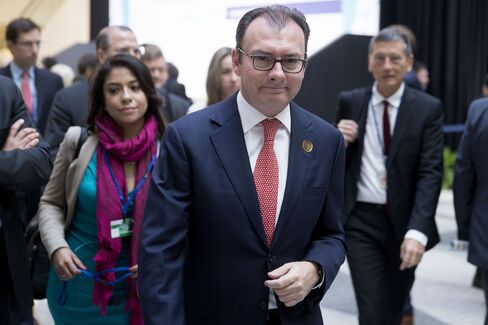 Mexico will hedge its 2016 oil exports to protect against lower prices even with crude near a six-year low, and the nation has little room to increase its debt to avoid spending cuts, Finance Minister Luis Videgaray said.
"There are certainly lower prices that can happen and could represent risk, so yes we will hedge," Videgaray said in an interview Saturday in Washington. "Certainly it will not be a hedge at the price we were able to get for this year's hedge, but we'll take what the market gives us."
Oil sales account for about a third of public revenue, and while Mexico hedged this year's price at $76.40 per barrel, it doesn't yet have any price protection for next year. With the government expecting domestic production to fall for an 11th straight year, the Finance Ministry trimmed expenses for this year and next.
President Enrique Pena Nieto's administration prefers to cut spending rather than increase debt amid expected interest-rate increases by the U.S. Federal Reserve and less availability of capital for emerging markets in coming years, Videgaray said. The government will refrain from tax increases and doesn't want public-sector debt to increase beyond 44 percent of gross domestic product from the current level of about 42 percent, he said.
Stabilizing Debt
"We're comfortable if we stay basically where we are," he said. "Even with the spending cuts there will be some deficit this year, but we want to stabilize that. And spending cuts we've undertaken are aimed at stabilizing that ratio at less than 44 percent."
After cutting spending by 0.7 percent of GDP in 2015, Mexico will reduce outlays by another 0.7 percent of GDP next year, the government said last month.
Mexico's government cut its 2016 growth forecast and spending plans on March 31 as lower oil prices eat into public finances. Latin America's second-largest economy will grow 3.3 percent to 4.3 percent next year, the Finance Ministry said in a report to Congress, down from an estimate of 4.9 percent in a September budget proposal.
Videgaray said Mexico's currency commission will consider extending $52 million in daily dollar sales as it approaches the current program's expiration on June 8. The central bank is slowing the pace at which it accumulates foreign reserves to help shore up the peso. The currency on March 11 tumbled to the weakest level since its redenomination in 1993, part of a sell-off in emerging markets amid oil's drop and speculation the U.S. central bank will raise borrowing costs.
Currency Stance
The dollar sales give Mexico a more neutral position on the peso than in recent years, when it was biased toward weakening of the currency through foreign reserves accumulation, Videgaray said. Mexico increased reserves to a record $196 billion in January, more than double the level from the end of 2009, to guard against another financial crisis.
Pena Nieto's approval has suffered as Mexico's economic growth missed analysts' forecasts over the past two years even as he pushed through an overhaul aimed at boosting growth by opening the state-controlled energy industry to private investment. Pena Nieto's approval rating dropped to 39 percent in December, the lowest for any Mexican president since the mid-1990s and down 11 percentage points since August, according to a poll by Mexico City newspaper Reforma.
The economic overhauls "will create better growth for Mexico and a better economy, there's no question about that," Videgaray said. "But people get very impatient. That's normal. That's the nature of democracy."
Before it's here, it's on the Bloomberg Terminal.
LEARN MORE