South Africa's Zuma Cancels Trip Over Anti-Foreigner Unrest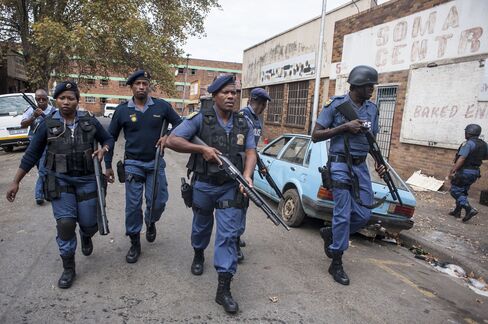 South African President Jacob Zuma canceled a state visit to Indonesia after anti-immigrant violence spread to other parts of Johannesburg.
Zuma will on Saturday visit displaced foreigners in the coastal city of Durban, where at least five people have been killed in the past week, the president's office said in a statement on its website.
"We reiterate our message that there can be no justification for the attacks on foreign nationals," Zuma said. "These attacks go against everything we believe in. Working together we will be able to overcome this challenge."
Police used rubber bullets to stop attacks on foreign-owned shops in Johannesburg's Alexandra, Cleveland and Thokoza townships on Friday night, police spokesman Lungelo Dlamini said by phone. He said 51 people were arrested.
"We believe they are just criminals," Dlamini said. "They are opportunists who are using this situation to loot."
African nations including Zimbabwe, Ghana and Nigeria have criticized South Africa over the violence, the worst of its kind since 2008. Some poor South Africans see immigrants as competitors for jobs in a country where nearly one in four is unemployed.
"I would like to express our sense of shock and disgust as we abhor the incident that happened in Durban, where some five or six people were burnt to death deliberately by some members of the South African Zulu community," Zimbabwean President Robert Mugabe said in a speech in the capital, Harare, on Saturday. "That must never happen again in South Africa or in any other country on the continent."
Millions of Africans have streamed into South Africa since the end of apartheid in 1994 in the search of jobs or for safety from oppression in their own land.
Before it's here, it's on the Bloomberg Terminal.
LEARN MORE