Israel, Palestinians Agree on Resuming Transfer of Tax Revenues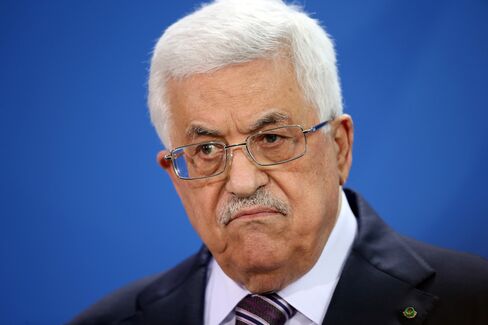 Israel will release almost $500 million in Palestinian tax revenue after the two sides reached an agreement ending a four-month freeze.
Israel suspended the funds in January to protest the Palestinians' decision to join the International Criminal Court. Palestinians have threatened to seek charges against Israeli leaders for military and settlement activities in the West Bank and Gaza Strip.
"An agreement was reached in which Israel will transfer all the funds and a bilateral committee will be formed to discuss all outstanding financial issues," Palestinian President Mahmoud Abbas said in Ramallah on Saturday. An Israeli official, who declined to be identified as he wasn't authorized to speak on the matter, confirmed the agreement by text message.
Israel will transfer 1.85 billion shekels ($472 million) to the Palestinian Authority, according to the Israeli official.
Israel collects taxes and customs on behalf of the Palestinian Authority. Prime Minister Benjamin Netanyahu said after his electoral victory in March that Israel would release the revenue as a humanitarian gesture. Abbas initially refused to accept the funds, saying Israel had unilaterally decided on the amount to be transferred.
Saturday's agreement will allow the Palestinian government to resume paying the full salaries of its 160,000 employees in the West Bank and Gaza Strip.
"This agreement is an important step in the right direction for both sides," U.N. Mideast envoy Nickolay Mladenov said in an e-mailed statement. Withholding the revenues for over four months "has undermined the stabililty of Palestinian institutions."
Before it's here, it's on the Bloomberg Terminal.
LEARN MORE