Home Prices Fall in Fewer Chinese Cities as Demand Grows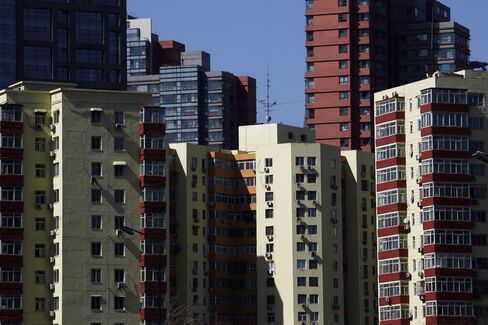 Fewer Chinese cities saw home prices fall last month as demand got a boost from two interest-rate cuts since November and the removal of property curbs.
New-home prices dropped from a month earlier in 49 of the 70 cities tracked by the government, the National Bureau of Statistics said on Saturday, compared with slides in 66 in February. The average price fell for an 11th consecutive month, bringing the decline from a year earlier to 6.1 percent, the steepest on record, according to Bloomberg calculations.
The government eased mortgage policies at the end of March, adding to loosening steps since September to aid an industry that has been weighing on economic growth. Home prices fell from a year earlier last month in all 70 cities, while property investment growth slumped to the slowest since at least 2013 in the first quarter.
"Improving prices and turnover showed a seasonal recovery by the market itself," Xia Dan, a Shanghai-based analyst at Bank of Communications Co., wrote in a research note. "As policies start to take effect, transactions are expected to keep improving slightly. In case the recovery of the housing market doesn't meet expectation, there will be further policy adjustments."
Home sales surged 66 percent from February, a period typically weak due to a week-long holiday, and will stabilize further in the coming months as the looser policies take effect, the statistics bureau said in a separate statement.
Biggest Cities
New-home prices in Shenzhen rose 0.7 percent from a month earlier, the fourth consecutive monthly increase, and gained 0.3 percent in Beijing, reversing eight months of declines. Prices fell 0.1 percent in Guangzhou, and were unchanged in Shanghai and eight other cities, according to data on Saturday.
Housing sales tumbled 9.1 percent in the first quarter,narrowing from a 16.7 percent plunge in the January-February period, according to government data earlier this week. Unsold new-home space jumped 23.5 percent from a year earlier to 428.2 million square meters (4.6 billion square feet) as of March 31, equivalent to more than five times March sales.
The average March new-home price in 100 cities tracked by SouFun Holdings Ltd. slid 0.2 percent from the previous month as developers tapped a favorable policy environment to trim inventories, according to China's biggest property website owner.
New-home prices dropped 3.7 percent from a year earlier in Beijing, compared with a 10.3 percent gain in March 2014, and fell 5 percent in Shanghai, the data show.
Policy Easing
Existing-home prices dropped from the previous month in 48 cities, compared to 61 in February. They rose in 12 cities and were unchanged in 10.
The People's Bank of China on March 30 lowered to 40 percent from 60 percent the minimum down payment required of second-home buyers who are still repaying their first mortgage. The government also exempted some homeowners from paying a 5.5 percent sales tax if they sell after two years, down from five years previously.
The central bank began in 2014 to reverse its four-year effort to tighten lending and cool the housing market. In late February, policy makers cut the benchmark interest rate on loans longer than five years, which lenders use to price mortgages, by 25 basis points. That followed a rate reduction of 40 basis points in November.
Housing prices may bottom out as early as this month or next on a month-on-month basis as sales will see "strong" growth from a year earlier in the coming quarters amid supportive policy environment, Alan Jin, a Hong Kong-based real estate analyst at Mizuho Securities Asia Ltd., wrote in a report April 16.
— With assistance by Dingmin Zhang, and Helen Sun
Before it's here, it's on the Bloomberg Terminal.
LEARN MORE