California's New Drought Rules Would Require Cuts of Up to 36%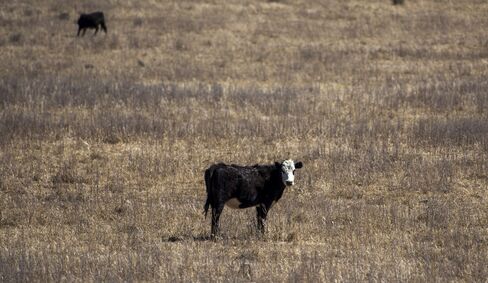 California has proposed rules calling for mandatory reductions in water use by municipal agencies as a historic drought drags into a fourth year.
The state's 411 urban water suppliers would have to cut use by as much as 36 percent, with those that conserved less facing tougher restrictions, the California State Water Resources Control Board said in the proposed rules released Saturday. The board will meet May 5 and 6 to finalize the rules, which would take effect by June 1.
"We're in a drought like we've not seen before," Felicia Marcus, the board's chairwoman, said on a conference call with reporters. "All Californians need to step up more and prepare as if it won't rain or snow much next year either."
The emergency rules would be in effect for 270 days. The agency will release a revised proposal on April 28 after soliciting public comment on the draft rules. Water suppliers that don't conserve would face a daily penalty of up to $500, with the fine increasing to as much as $10,000 if the agency issues a cease-and-desist order.
The regulations are based on an executive order that Governor Jerry Brown, a 77-year-old Democrat, issued April 1 calling for a mandatory 25 percent reduction in water use from 2013 levels and requiring 50 million square feet of lawns to be replaced by drought-tolerant landscaping.
California, the most populous U.S. state, and its $43 billion agriculture industry are experiencing the worst of the arid conditions moving across the western U.S. Some 67 percent of the state in an extreme drought, according to the weekly U.S. Drought Monitor.
L.A. Reductions
Los Angeles Mayor Eric Garcetti said California's largest city has reduced daily water use by 7 gallons per person since his call for lowering consumption by 20 percent by 2017. Since November, the city has offered turf-removal rebates of $3.75 per square foot.
"That puts us on track to meet my directive's targets," Garcetti said Saturday in a statement.
The water board this week released more than 250 comment letters from the public, businesses, water agencies and cities on an initial proposal.
The planned 35 percent reduction in water use for Beverly Hills would "place a significant burden on our small permanent customer base" of 42,157 residents, Mahdi Aluzri, interim city manager, said in the letter. Beverly Hills' daytime population, including commuters who work in the city, shoppers and visitors, can rise to more than 250,000 water users, Aluzri said. Under the latest proposal, Beverly Hills would be required to cut water use by as much as 36 percent.
California's residents in February reduced water use by 2.8 percent below 2013 levels, the worst monthly performance since June, the water board said.
Before it's here, it's on the Bloomberg Terminal.
LEARN MORE