Abbott Urges Anzac Day Attendance After Terrorism Arrests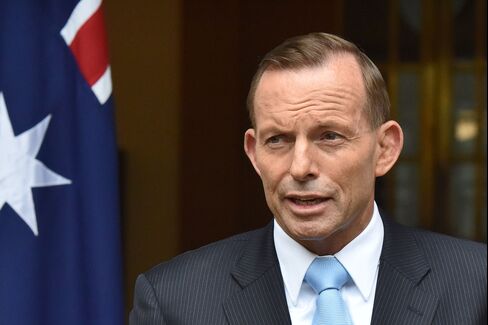 Prime Minister Tony Abbott urged Australians not to avoid Anzac Day events next week after police said they arrested five Melbourne teenagers who had been planning a terror attack to disrupt the commemorations.
Two 18-year-old men were arrested Saturday for allegedly planning an attack at an Anzac Day activity in the city, including targeting police officers, the Australian Federal Police said in a statement. One man has been charged with conspiracy to plan a terrorist act, according to Victoria Police. A third man was arrested on weapons offenses and two others are in custody, assisting with inquiries.
"This was the only attack we were aware of at an advanced stage of planning," Abbott told reporters in Sydney. "People should turn up at Anzac Day events in the largest possible numbers. The best thing you can do in the face of those who do us harm is live your life normally."
The government raised its terrorism alert to the highest level in a decade in September, citing the threat posed by local supporters of Islamic State militants. While police on Saturday said they believe the planned attack was Islamic State-inspired, Victorian Premier Daniel Andrews said at a televised conference that those arrested "were not people of faith, they don't represent any culture."
An 18-year-old man has been charged with conspiracy to commit acts done in preparation for or planning terrorist acts, according to a Victoria Police spokesman. The man appeared in Melbourne Magistrates' Court and has been remanded in custody until a hearing on April 24, the Age newspaper reported.
Anzac Day
Anzac Day is celebrated on April 25, the anniversary of the 1915 battle at Gallipoli. The day serves as remembrance of all Australians and New Zealanders killed in military operations.
There will be a strong police presence at public events over the Anzac period, he said.
Police in February arrested two men in Sydney for plotting terrorism, and seized a machete, a knife and an Islamic State flag. Abbott said then that the government would appoint a counter-terrorism chief to tackle the rising threat posed by extremists.
"To be a terrorist you don't need that much more than a knife, a flag and a camera-phone except for this: you need the will to commit a terrorist act," Abbott said on Saturday.
Before it's here, it's on the Bloomberg Terminal.
LEARN MORE