Yemen Tribal Fighters Take Control of Oil Facilities at Masila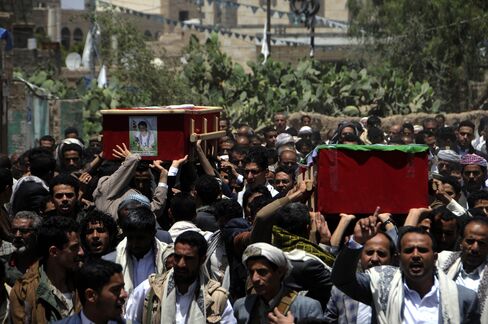 Tribal fighters loyal to Yemen's ousted President Abdurabuh Mansur Hadi said they have taken control of the Masila oil fields to prevent them falling into the hands of Houthi rebels or al-Qaeda.
Army units in charge of security at Masila handed their positions and weapons to fighters from a tribal alliance in the southern Hadramaut province, according to Mohammed al-Kuhlani, an army officer based there, and Ahmed Bam'es, a tribal chief. The army's withdrawal on Friday came after negotiations with the tribes, and there was no fighting, they said.
Bam'es said the move was driven by concern that the oilfields may fall into the hands of militants from al-Qaeda, who have made gains in southern Yemen in recent weeks as the country's civil war escalates, or army elements that support the Houthis.
Yemen's war pits the Shiite Houthis, who have seized the capital, Sana'a, and much of the rest of the country, against allies of Hadi, whose main strength is in the south. Saudi Arabia is leading a coalition carrying out airstrikes against the Houthis in an effort to restore Hadi to power.
There was also fierce fighting on Friday in Taiz, one of the main cities in southern Yemen. The Saudi-led air campaign struck the presidential palace in the city, and there were clashes involving tanks and heavy mortar fire between troops loyal to Hadi and those who support the Houthis and Hadi's predecessor, Ali Abdullah Saleh.
Before it's here, it's on the Bloomberg Terminal.
LEARN MORE