Lilly Pulitzer's much-hyped collection for Target attracted a mob of fans at its pop-up shop in New York City on Thursday, as hundreds lined up to browse racks of tops and dresses with playful, colorful prints. Even with a five-item limit, much of the merchandise was out the door by mid-afternoon.
The limited-edition line of Lilly Pulitzer clothing, beauty products, and home goods will hit Target's store shelves on Sunday, following three months of anticipation and fanfare. Stores will open at their regular times, while Target's online shop will begin selling the items sometime in the early morning.
Both companies have something to gain from the buzzy partnership. For Target, it's credibility as a source for chic fashion — an ongoing push the company's been making in recent years. For Lilly Pulitzer, it's attracting new kinds of customers.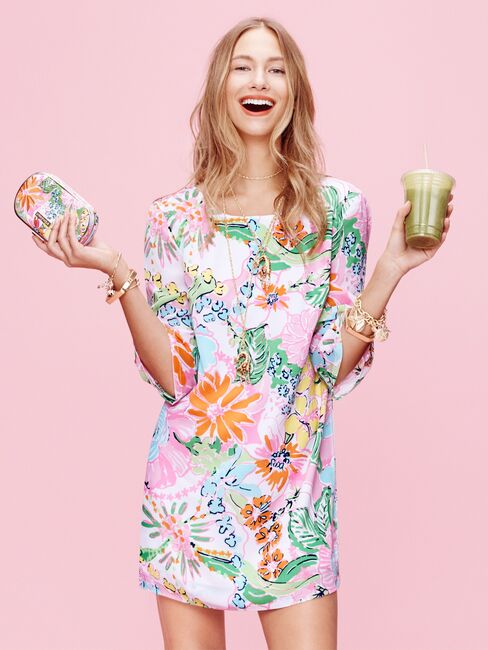 By collaborating with a mass retailer like Target, Lilly Pulitzer dramatically increases shopper awareness of the brand, says Steven Dennis, founder of retail and fashion consultancy SageBerry and a former senior executive at Neiman Marcus. That's important for a label that, though iconic, has a narrow focus. Everything at Lilly Pulitzer is ritzy and bold, exuding a vivacious party aura that's popular among the country club crowd. That distinctive preppy look is bound to turn some people off completely, but perhaps there's a potential following in Target's wheelhouse: trendy types in Middle America.
"It very much could be a test," Dennis says of the decision to collaborate with Target. "Lilly Pulitzer is a brand that's strong but very narrow. For them to test the waters on ways to grow, it's a sensible test. Whether it will work out is a whole other issue."
Jane Schoenborn, vice president of creative communications at Lilly Pulitzer, says the Target partnership allows the brand to reach a "new audience" and showcase new kinds of products under the Lilly Pulitzer banner. The collaboration is the designer brand's first foray into outdoor decor, beach accessories, and bar items.
Executives at Lilly Pulitzer need to walk a careful line — efforts to gain new customers sometimes mean alienating old ones. Some of Lilly Pulitzer's most die-hard fans are already fretting about the collaboration, concerned that Lilly Pulitzer will lose its luster by being sold at a mass-market discounter like Target.
Target, meanwhile, has already tried numerous designer collaborations with varying degrees of success. Labels such as Missoni, Prabal Gurung, Phillip Lim, Zac Posen, and Jason Wu have all graced Target's shelves. But unlike most of those brands, Lilly Pulitzer carries a lengthy legacy stretching back to 1959, when Pulitzer, then a socialite with time to kill, opened a juice stand in Palm Beach, Fla. As the story goes, she created clothes with vivid prints to hide stains from the fruit. Her designs caught on, and suddenly she was a prominent designer — one with a loyal, protective following.
Lilly Pulitzer is "thrilled" with the response from shoppers thus far, says Schoenborn, adding that the brand's ardent fans should still expect to see the aesthetic (and accompanying prices) they're accustomed to. "We don't have any plans to change our signature style or price point," she says.
Before it's here, it's on the Bloomberg Terminal.
LEARN MORE