VW Top Board Group Backs CEO Winterkorn in Power Struggle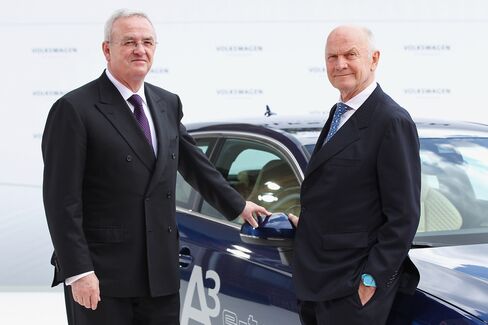 Volkswagen AG's top supervisory board group backed Chief Executive Officer Martin Winterkorn, defusing a power struggle with Chairman Ferdinand Piech.
The leadership committee of the German automaker's supervisory board said Friday in a statement that Winterkorn is the "best possible" CEO and had the group's "full support." The six-member body, made up of Piech and five others, plans to propose to the full board in February that Winterkorn's contract be extended beyond 2016.
"Extending Winterkorn's contract clearly strengthens his position, and it's important for VW to have a strong CEO," said Daniel Schwarz, a Frankfurt-based analyst at Commerzbank AG. "Winterkorn is doing an excellent job."
Winterkorn's future was called into question after Piech told Der Spiegel magazine last Friday that he had distanced himself from his former confidant and no longer wants him as the next chairman. The dressing-down came without explanation and was a surprise blow to an executive who has led the company to record profits and put it within grasp of overtaking Toyota Motor Corp. as the No. 1 in the industry.
Winterkorn appeared before a meeting of the board group in Salzburg, Austria, on Thursday to fight for his job, as the struggle between Volkswagen's top executives threw Europe's biggest carmaker into disarray.
The committee usually prepares the meetings of the full 20-person supervisory board, which has the power to hire and fire executives. In Germany, executive's contracts are generally only extended in their final year.
Right Man
"We will continue on our successful course with Martin Winterkorn," Bernd Osterloh, VW's labor union chief, said in an e-mailed statement after the panel's decision was announced. "He's the right man in the right place."
The German state of Lower Saxony, which also has a seat on the board, also has great trust in Winterkorn, state Prime Minister Stephan Weil said in a statement.
In addition to Piech, who is also a member of one of the two families that control VW, the group is made up of Weil; Osterloh and his deputy, Stephan Wolf; Berthold Huber, representing the IG Metall union; and Wolfgang Porsche, Piech's cousin and a representative of the other shareholder family.
Piech, who turns 78 today, had key power players of VW turn their back on him since the Spiegel comments in a rare setback for the executive, who has led the automaker for more than two decades. Piech's future wasn't addressed in the statement.
Piech's future "is a separate issue" as he remains a key shareholder of the group, said Commerzbank's Schwarz.
Before it's here, it's on the Bloomberg Terminal.
LEARN MORE