TSMC Shares Drop on Sales Guidance Miss, Industry Outlook Cut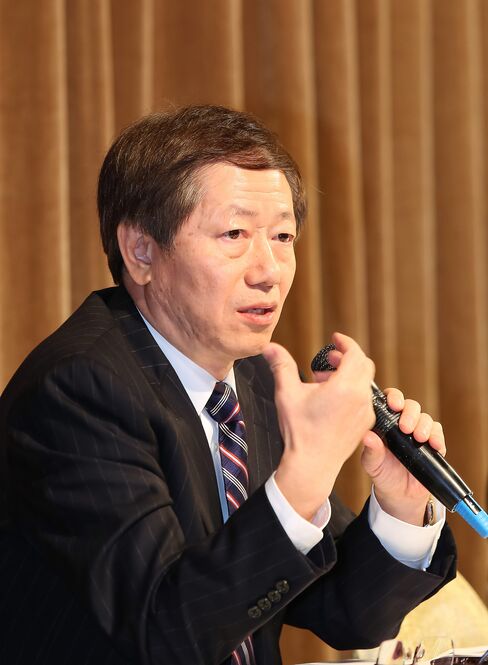 Taiwan Semiconductor Manufacturing Co. fell in Taipei trading after forecasting second-quarter sales that missed estimates and cutting its industry outlook.
The shares dropped as much as 3.1 percent, the most since March 26, to NT$142.50 as of 9:02 a.m. in Taipei. TSMC is the largest component in the benchmark Taiex, which fell 0.5 percent.
Second-quarter sales will be as low as NT$204 billion ($6.5 billion) up to 9 percent below the average of estimates, TSMC said yesterday. The maker of smartphone chips to the designs of Apple Inc. and Qualcomm Inc. is being hurt by a stronger U.S. currency and weakening Chinese economy that have dented sales of consumer devices globally.
"The degree of 2Q sales drop guidance still disappoints us," Szeho Ng, an analyst at BNP Paribas, wrote in a report yesterday after the guidance was announced. "We see TSMC's recent solid profit growth as hard to sustain into 2015-16."
First-quarter net income climbed 65 percent to NT$79 billion, TSMC reported yesterday, surpassing the NT$77.5 billion average of 25 analysts' estimates compiled by Bloomberg.
TSMC also cut its wider industry forecasts for the year and said it will outpace foundry peers. Global chip sales will climb 4 percent, slower than 5 percent previously estimated, while the foundry sector is forecast to expand by 10 percent, from an earlier projection for 12 percent, Co-Chief Executive Officer Mark Liu told investors Thursday.
"Some of our customers appeared too optimistic on their own market outlook" for the second quarter, Liu said. "Recently, we saw several mobile customers cut back their delivery schedule because their demand didn't come to what they anticipated."
TSMC also suffered when a major client lost smartphone chip orders to a rival that designs and makes its own processors, Chief Financial Officer Lora Ho said, without naming the customer or the competitor.
While sales will improve in the second-half, TSMC reduced its spending forecast to $10.5 billion to $11 billion because the company has become more efficient in using existing equipment, CFO Lora Ho said yesterday.
Revenue and profit growth over the next five years will average around 10 percent, Liu said today.
               1Q                            2Q

               Company   Company   Analyst   Company   Analyst
               Actual    Forecast  Estimate  Forecast  Estimate
Sales NT$bln   222       221-224   219.4     204-207   223.9
Gross Margin%  49.3      48.5-50.5 49.7      47.5-49.5 49.5
Op Margin%     39.0      38.5-40.5  --       36.5-38.5  --
Sources: TSMC, Bloomberg NOTE: Estimates compiled prior to 1Q IR conference, 2Q guidance
Before it's here, it's on the Bloomberg Terminal.
LEARN MORE