South Africa Names Rail Utility CEO Molefe to Head Up Eskom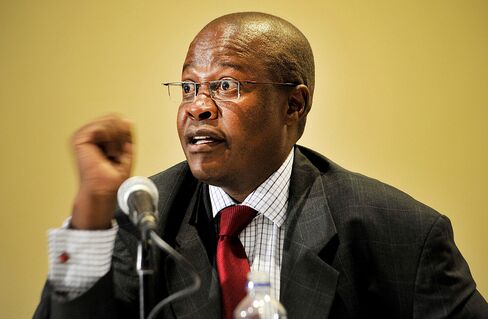 South Africa appointed Brian Molefe, chief executive officer of the nation's ports and rail utility, acting head of state-owned Eskom Holdings SOC Ltd., which is struggling to meet the country's power needs.
The company, which supplies about 95 percent of the nation's electricity, is rationing supply for a sixth straight day because it can't meet demand from aging plants following years of underinvestment. Its chairman stepped down last month after losing the board's support over a decision to suspend CEO Tshediso Matona and three other top managers, leaving it without permanent leadership.
"What I need is a full-time chief executive who can do the job from the get-go," Public Enterprises Minister Lynne Brown told reporters Friday in Johannesburg. There are three candidates to replace Molefe at Transnet, she said.
As CEO of Transnet, Molefe has presided over an improvement in rail services to South Africa's coal industry, which is the continent's biggest. Appointed in 2011, Molefe has been overseeing a seven-year, 312 billion-rand ($26 billion) plan to increase rail and port capacity to end transportation bottlenecks in the country.
Prior to that, he was CEO of the Public Investment Corp., which oversees the pension funds of state workers and is Africa's largest money manager. He held the post for seven years.
Strong Leader
Molefe "understands what it means to run a state-owned company," Brown said. In approaching him and the board, "I said I want a strong leader who will take us out of where we are now,'" she said.
Eskom bonds rallied, with the yield on the company's $1.25 billion of debt due in February 2025 declining 6 basis points to 6.54 percent by 4:26 p.m. in Johannesburg.
The appointment doesn't increase the chances of a restructuring and privatization of the utility, "but it will improve management at Eskom and give a rare boost to investor confidence," Mark Rosenberg, Africa director at Eurasia Group in New York, said by phone from Johannesburg.
Eskom is struggling to plug a 225 billion-rand funding gap required to build new plants and maintain existing generators. Supply to 20 municipalities that are home to about 3.8 million people may be cut from June because the districts owe the power producer 3.68 billion rand, the company said April 10.
Immediate Priorities
"The immediate priorities will be to deal with the current load-shedding," which he will discuss with a team over the weekend, Molefe said, referring to the rolling blackouts. He also wants to increase Eskom's use of alternative energy and move away from coal, which makes up about 80 percent of its needs.
Brown will proceed with starting an independent audit into the state of Eskom, looking at its financial liquidity, maintenance plan, adherence to that schedule and why construction of new plants has been beset by delays, she said.
Matona, who was suspended March 12, is challenging the action through the country's Commission for Conciliation, Mediation and Arbitration, where discussions are taking place until April 29.
"I'd really like Mr. Molefe to take over for a year," Brown said. Should Matona return, Brown said she would look for a different position for Molefe within Eskom.
Before it's here, it's on the Bloomberg Terminal.
LEARN MORE