Should You Read Ben Bernanke's Blog?
Author. Hedge fund adviser. Chatterbox. The former Fed chief has strong opinions and is eager to share them with you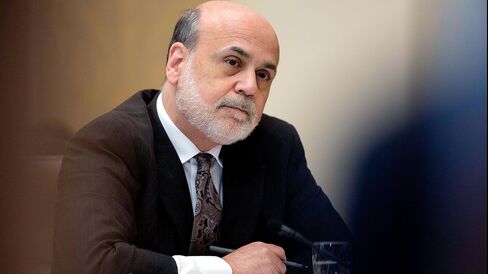 Ben Bernanke's blog—titled, with the caution of a former Fed chairman, Ben Bernanke's Blog—is mainly for people with an insatiable interest in inflation targeting, the zero lower bound on rates, and the term premium on 10-year Treasury notes. In other words, people who got food thrown at them in middle school.
Yet it has its charms. Bernanke still knows how to get attention (now by other means than saying, or not saying, "measured steps"). Already he has started an online argument with former Treasury Secretary Larry Summers, himself a skilled combatant; criticized Germany for its big fat trade surplus; and, on Wednesday, offered what looked like unsolicited advice to his former colleagues on the Fed's rate-setting Federal Open Market Committee. He posted 10 times in the blog's first 17 days, a pretty good clip for a busy man, now a distinguished fellow in residence at the Brookings Institution.
The bearded one went quiet after he left the Fed at the end of January 2014, but it turns out he was just gathering momentum for an upward surge, like a breaching killer whale. He launched the blog on March 30. On April 8 his publisher unveiled the title and jacket of his forthcoming memoir, The Courage to Act. And yesterday the giant hedge fund Citadel announced it was hiring him as an outside senior adviser.
"Dear Ben: Better Pace Yourself ..." was the headline on a post by Bloomberg View columnist Barry Ritholtz. "All of this activity is starting to look a bit frenetic," he wrote.
Trolling a worthy adversary is a time-tested way to get attention in the blogosphere. When Bernanke went after Summers, who was considered a rival candidate for the Fed chairmanship, he managed to make it personal, writing, "As Larry's uncle Paul Samuelson taught me in graduate school at MIT ... ." Summers responded to him on the blog. Bernanke responded to his response. Summers went silent.
Next up: the Germans. Bernanke wrote, "In a slow-growing world that is short on aggregate demand, Germany's trade surplus is a problem."
"I do think that Germany, as Europe's largest economy, has a special responsibility," Thiess Petersen, a senior expert with the German think tank Bertelsmann, answered when interviewed by the global edition of Handelsblatt, Germany's leading business and finance daily. "But the question is, what should they do about it?"
Former Fed chiefs Paul Volcker and Alan Greenspan have generally been circumspect about commenting on Federal Reserve policy. Bernanke has, too.
But in a speech Wednesday at an International Monetary Fund conference (which of course became a blog entry), Bernanke seemed to say that members of the Federal Open Market Committee should think twice about allowing the Fed's balance sheet to shrink as bonds mature.
"Of course, I have not been privy to the internal discussions, having left the Fed more than fourteen months ago, but I wonder if the case for keeping the balance sheet somewhat larger than before the crisis has been adequately explored," he said in the speech, "Monetary Policy in the Future," according to the prepared remarks on his blog.
He pulled back at the end of the talk, saying, "To be clear, I am not making a recommendation today about the ultimate size of the Fed's balance sheet. It's a complex issue that deserves more discussion. My aim today is to contribute to that discussion and encourage further public debate."
Bernanke's quiet demeanor and professorial appearance earned him the nickname Gentle Ben, but the financial crisis made it clear that he is not one to back down. Now we're seeing a new side of the former Princeton University economist: blogger provocateur. Be warned, though. Commentary on monetary policy is an acquired taste.
Before it's here, it's on the Bloomberg Terminal.
LEARN MORE