Reynolds Profit Exceeds Estimates as It Seeks Deal Approval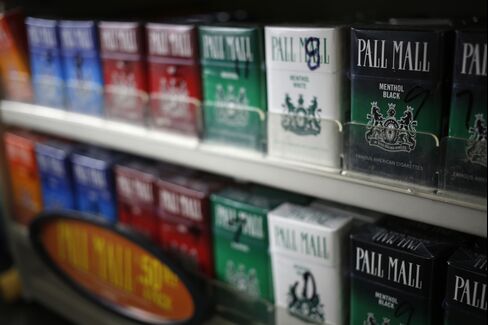 Reynolds American Inc., which is working to complete its $25 billion acquisition of Lorillard Inc., posted first-quarter earnings that beat analysts' estimates after increasing cigarette prices and boosting margins.
Excluding some items, profit was 86 cents a share in the period, the Winston-Salem, North Carolina-based maker of Camel cigarettes said Friday in a statement. Analysts had estimated 80 cents on average, according to data compiled by Bloomberg.
Reynolds, the second-largest U.S. tobacco company, is benefiting from higher cigarette prices and efforts to squeeze costs out of its operations. But the big question for investors is when the Lorillard deal will close. Reynolds plans to use the transaction -- the largest tobacco merger in decades -- to cope with shrinking cigarette demand and compete with market leader Altria Group Inc. Lorillard also will help bolster Reynolds's position in the growing industry of e-cigarettes.
The deal, which was forged last July, has yet to win approval from U.S. regulators. The company said on Friday it remains confident that it will close by the middle of this year.
The shares rose 0.4 percent to $74.51 as of 10:44 a.m. in New York. Reynolds had climbed 16 percent this year through Thursday's close, beating the 2.2 percent gain for the Standard & Poor's 500 Index.
Philip Morris International Inc., which focuses on overseas markets, also topped first-quarter projections this week, helped by price increases. That company, the world's largest publicly traded tobacco seller, was spun off from Altria in 2008.
Profit Gain
Reynolds net income rose 7.2 percent to $389 million, or 73 cents a share, from $363 million, or 67 cents, a year earlier. Net sales climbed 6.3 percent to $2.06 billion. Analysts had estimated $1.98 billion. Reynolds also reaffirmed its earnings forecast for the year.
"All of our operating companies increased both earnings and operating margins, while remaining focused on strategic initiatives," Chief Executive Officer Susan Cameron said in the statement.
Lorillard reported its own first-quarter results in a separate statement on Friday. Excluding some items, earnings amounted to 82 cents a share, beating the 77 cents predicted by analysts.
Like Reynolds, it reiterated hopes for a swift completion of the merger.
"The company continues to believe its previously announced combination with Reynolds American will close in the first half of 2015," CEO Murray Kessler said. "Once completed, the transaction will deliver significant and immediate value to Lorillard shareholders."
Before it's here, it's on the Bloomberg Terminal.
LEARN MORE