Obama Adviser Froman to Visit Tokyo for Trade Deal Endgame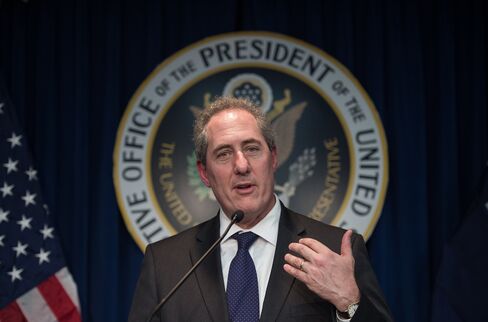 U.S. Trade Representative Michael Froman will travel to Tokyo this weekend for high-level talks on a trade agreement with Japan that negotiators hope will lead to a broader Asia-Pacific pact involving 10 other nations, Japanese Economy Minister Akira Amari told reporters in Tokyo.
The announcement comes one day after a bipartisan group of lawmakers in the U.S. Congress introduced legislation that would grant President Barack Obama fast-track negotiating authority. It would let the president submit trade deals to Congress for an expedited vote without amendments.
An accord giving the U.S. and Japan access to each others' markets for products such as pork, rice and automobiles would only take effect if incorporated into the Trans-Pacific Partnership, a 12-nation negotiation that Japan joined in 2013. Although all the governments must agree, the U.S. and Japan are by far the largest economies involved.
Froman said on Thursday that the broader group of countries is also nearing completion of the Asia-Pacific pact, which would cover about 40 percent of global trade.
"There are open issues across the agreement, but everyone is in a closing mode," Froman said in Washington.
The U.S. and the European Union are working on a similar pact.
Meat Tariffs
Japan and the U.S. are near agreement on a 10-year reduction in Japanese tariffs on beef, to about 10 percent from 38.5 percent, and on pork to 50 yen per kilogram (19 cents per pound) from as much as 482 yen, the Nikkei newspaper reported today, without attribution. Rice and cars remain the final obstacles to a deal, the report said.
The visit by Froman, President Barack Obama's top international trade adviser, to Japan April 19 and 20 comes ahead of a visit by Japanese Prime Minister Shinzo Abe to Washington on April 28. In trade negotiations, ministers often finalize details of pacts, which are then formally approved by heads of state and government.
The legislation introduced Thursday was negotiated by Senators Orrin Hatch, the Republican chairman of the Finance Committee that oversees trade policy, and Ron Wyden, the panel's top Democrat. It would let the White House send Congress trade pacts for votes without amendment, known as trade promotion authority or "fast track."
Ways and Means Committee Chairman Paul Ryan, a Wisconsin Republican, introduced a similar bill in the House.
Obama Pleased
Obama, who had pledged to double U.S. exports when he took office six years ago, said in a statement he was pleased with the legislation.
"I look forward to working with Democrats and Republicans in Congress to pass this bill, seize this opportunity, and support more good American jobs with the wages and benefits hardworking families deserve," he said.
The legislation also seeks to combat currency manipulation and end barriers to digital trade, according to a statement accompanying the measure.
Hatch said he will hold a committee hearing April 23 to debate and then vote on advancing the bill.
Six Senate Democrats led by New York's Charles Schumer, in line to become the Senate's Democratic leader in 2017, issued a joint statement criticizing Hatch's timetable for passing the bill -- an indication of the challenge Obama faces in winning support from members of his party.
Before it's here, it's on the Bloomberg Terminal.
LEARN MORE