Labour's Top Scots at Risk as Poll Shows SNP Ahead in Key Seats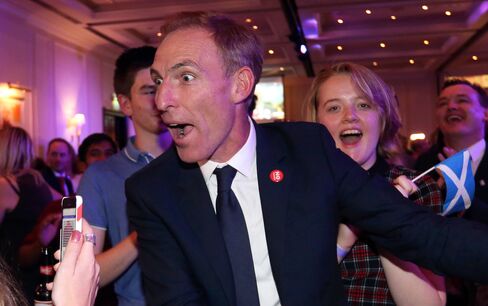 If Labour Party leader Ed Miliband wins power in next month's U.K. election, he may have to govern without his two top Scottish lawmakers, a poll showed.
Douglas Alexander, the party's campaign manager, and Jim Murphy, the Scottish Labour leader, are set to lose their seats at the May 7 vote to the Scottish National Party, according to surveys by Lord Ashcroft Polls published on Friday.
The figures suggested the SNP is on course to take more than 50 of Scotland's 59 House of Commons districts and all but wipe out Labour in one of its heartlands. SNP leader Nicola Sturgeon reiterated in a televised debate Thursday she would prop up a Miliband-led minority government as she seeks more power for Scotland following a surge in support for her party despite losing a referendum on independence last year.
The polling by Michael Ashcroft, a former Conservative lawmaker in the House of Lords, showed the SNP had extended its lead in Alexander's Paisley and Renfrewshire South district to 11 percentage points from eight points in February. Murphy's one-point lead in East Renfrewshire turned into a nine-point gap in favor of the Scottish nationalists.
Of the eight Scottish districts in the latest polling, the SNP was set to win seven, including those of Jo Swinson, the most prominent female Liberal Democrat lawmaker, and the current only Conservative-held seat in Scotland. The only district where the SNP wasn't ahead was in Berwickshire, along the border with England, where the Conservatives were leading the nationalists by 1 point.
Ashcroft surveyed about 1,000 voters in each of the eight districts over a period starting April 9. No margins of error were specified.
For News and Related Information: Scottish Nationalists Extend Poll Lead on Labour After Debates
Before it's here, it's on the Bloomberg Terminal.
LEARN MORE