GE Holds Talks With Sovereign Funds for Finance-Assets Sale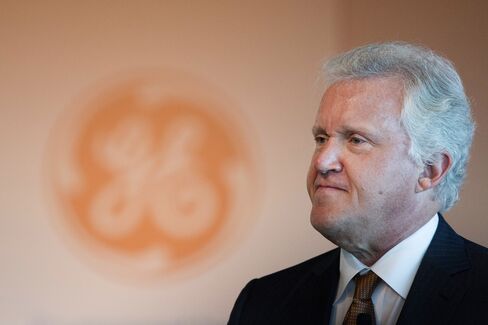 General Electric Co. has held talks with "a broad geographic spectrum" of sovereign wealth funds as part of the effort to sell the bulk of its lending business, Chief Financial Officer Jeff Bornstein said.
"We're tracking every expression of interest inbound," Bornstein said Friday in a telephone interview, declining to identify any suitors beyond saying that they included sovereign investors, banks, private-equity firms, hedge funds and insurers. "We have multiple, multiple pages of names. I think this is going to be very competitive."
GE and its advisers have spoken to sovereign funds in Europe -- including Norway's $882 billion vehicle -- as well as the Middle East and Asia to gauge potential interest in the GE Capital assets, according to people familiar with the matter. A representative for the Norwegian fund declined to comment.
Discussions with sovereign buyers show the scope of potential demand for the divestiture of about $200 billion in commercial finance, consumer lending and real estate assets from GE Capital. Large U.S. banks including U.S. Bancorp and JPMorgan Chase & Co. have said they would look in what is shaping up as a frenzy of interest from financial firms.
$7.1 Trillion
Sovereign funds, concentrated in Europe, Asia and the Middle East, control an estimated $7.1 trillion in assets, according to the Sovereign Wealth Fund Institute. Norway's is the largest.
The pools typically receive inflows from government surpluses, foreign currency operations or sales of natural resources. They're used for various purposes including stabilizing economies, funding social programs and saving for future generations.
GE hopes to complete the majority of GE Capital disposals by the end of 2016, Bornstein said.
Having sovereign funds involved could speed GE's sales process because they may be able to avoid U.S. rules for domestic bidders, said Scott Davis, a Barclays Plc analyst. GE opted to sell most of the finance business in part to shed its label as a systemically important financial institution, a tag that also could trip up U.S. buyers.
"Large banks are going to have some of the same restrictions that GE had," Davis said in an interview. "What's appealing about the thought of a sovereign buyer coming in is you wouldn't have the regulatory challenges. Basically you get the keys to the car and drive away."
Sovereign funds may be interested in GE's $130 billion commercial lending and leasing portfolio, which provides financing largely to middle-market businesses, Davis said. The unit has "a diversified portfolio, it already has its own sales force and collection people," he said.
GE said April 10 that it will sell the bulk of its lending unit in a sweeping move that accelerates Chief Executive Officer Jeffrey Immelt's plan to shrink the GE Capital unit that destabilized the parent during the 2008-09 financial crisis. Fairfield, Connecticut-based GE has agreements to sell about $27 billion in real estate as Immelt focuses on GE industrial units.
Before it's here, it's on the Bloomberg Terminal.
LEARN MORE