Flags Fly Half-Staff as Germany Remembers Aircrash Victims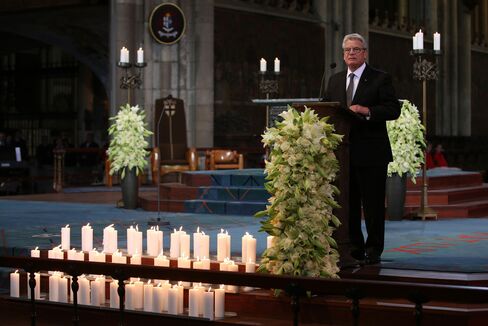 Flags flew at half-staff as German Chancellor Angela Merkel and President Joachim Gauck joined mourners remembering the 150 people who died in last month's Germanwings aircrash in a requiem in Cologne Cathedral.
Choirs sang Kyrie eleison, a Christian prayer asking for mercy, as relatives and friends filed into the 767-year-old basilica in a show of national unity for the bereaved. On the steps leading up to the altar, white candles burned for each of the 144 passengers and six crew, including co-pilot Andreas Lubitz who investigators said deliberately steered the plane into the French Alps on March 24, killing everyone on board.
"We know that death is a part of life, but when it strikes, we are stunned," said Cardinal Rainer Maria Woelki, the Roman Catholic archbishop overseeing the diocese of Cologne. "Lord, have mercy on our misery, tears and questions."
"One day, God will dry all our tears," said Annette Kurschus, the head of the Evangelical Church in the state of North Rhine-Westphalia, who co-celebrated the ecumenical service. "But what will happen until then, with all the tears shed, and all the tears that must still be shed? God himself must be there, must make the unthinkable his own. We are asking ourselves, Lord, where were you when a bright morning turned into dark night?"
The crash marked the largest loss of life from a single incident for Germany since 2000, when 97 of its citizens died in the Air France Concorde crash near Paris. Among those who perished were 16 students from a school in the northern town of Haltern am See and two teachers as well as two prominent opera singers. More than 70 Germans died, and about one in four of the passengers was Spanish.
Concealed Condition
Investigators believe Lubitz, whose medical history included severe depression and suicidal thoughts, concealed his condition and deliberately brought down the Airbus A320 that was en route from Barcelona to Dusseldorf after locking his captain out of the cockpit.
"We are joined in sorrow and pain, in helplessness, but also in commonality," said Gauck. "This horrible act of a single person has confronted us with the fact that there is no living together without trust. Every day we have to trust our fellow drivers on the roads, the chefs that prepare our meals, the handymen installing our gas pipes, our train drivers and our captains."
Lubitz's relatives were invited to the ceremony, Daniela Elpers, a spokeswoman for the German episcopal conference, said, declining to comment on whether they attended or not.
'Leaves Void'
"We do not know how it looked on the inside of the co-pilot, who took his own life and 149 others along with it," said Gauck. "But we do know that his relatives too lost a loved one who leaves a void in their lives."
Hannelore Kraft, the Prime Minister of North Rhine-Westphalia, invited 500 relatives to the ceremony that included a total of 1,400 guests. North Rhine-Westphalia is home to Germanwings and its parent Deutsche Lufthansa AG, whose Chief Executive Officer Carsten Spohr also attended.
People who helped in the recovery mission handed small wooden angels to representatives of the dead, including Kraft, Gauck, Germanwings CEO Thomas Winkelmann and Spanish Interior Minister Jorge Fernandez Diaz. France sent junior minister for transport Alain Vidalies.
German Interior Minister Thomas de Maiziere ordered flags to be lowered on federal buildings on Friday as well as in the immediate aftermath of the crash. Spain held three days of national mourning in March. The incident marked the worst aircrash on French soil in 33 years.
Sparked Debate
The circumstances leading to the crash have sparked debate about health checks for airline personnel and procedures used to detect psychological distress in jobs upon which the lives of others depend. The industry should consider systems to take control of aircraft from the ground in emergencies, Germany's air-traffic-control agency DFS has said.
The ceremony was broadcast on national television live from the cathedral, which is a Unesco World Heritage Site. Camera teams and photographers from other media organizations weren't permitted inside to protect the privacy of the participants.
Lufthansa canceled celebrations to mark its 60-year anniversary, originally planned for this week. The crash doubled the number of people killed on its planes in the last 60 years.
"Our grief is still with us, everyday, everywhere," Spohr said near the crash site in France on April 1. "There is not a single hour when we don't think about this terrible accident, the victims, and the relatives and friends of the victims," the executive said at the time.
Before it's here, it's on the Bloomberg Terminal.
LEARN MORE