China's First Fund Using Bourse Link Says H Shares Are Cheap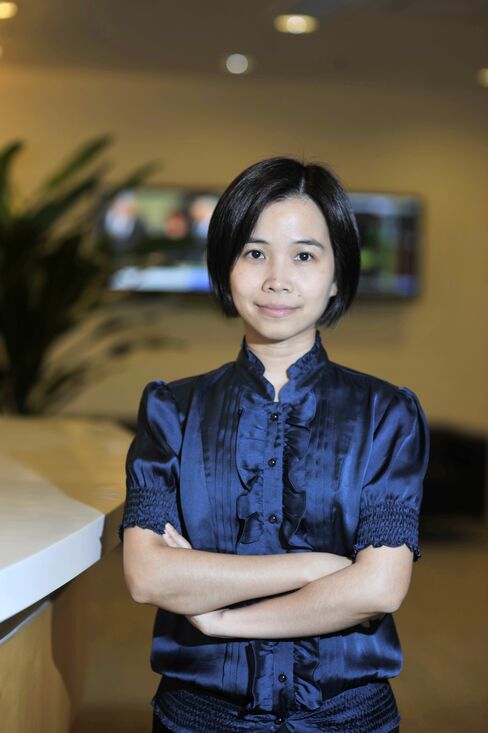 China's first mutual fund to gain access to the Hong Kong exchange link says stocks in the city are still cheap after surging to seven-year highs.
Chinese shares listed in Hong Kong will probably outperform their mainland counterparts because valuations are lower, said Linda Xie, the manager of the IGW China-HK Selected Equity Fund, which raised 11 billion yuan ($1.78 billion) in 19 days after opening it up to investors on March 26. Dual-listed stocks on Chinese exchanges are about 25 percent more expensive than those in the former British colony, according to the Hang Seng China AH Premium Index.
Speculation that Chinese mutual funds will pile into Hong Kong equities has propelled the Hang Seng China Enterprises Index of so-called H shares to a 24 percent gain since March 27, when regulators said they expanded the types of funds eligible to access the bourse link. Even after its rally, the gauge is valued at 10 times estimated earnings, versus a multiple of about 14 for the MSCI Asia Pacific Index.
"Low-valuation, big-capitalization H shares that have big discounts to A shares and good liquidity will realize above-average returns," said Xie, a fund manager at Invesco Great Wall Fund Management Co. in Shenzhen. She favors companies in the Internet, electronics manufacturing and consumer industries.
Link Inflows
The Hang Seng China index rose 0.4 percent at 11:29 a.m. in Hong Kong, heading for the highest close since January 2008.
Invesco's fund is China's first actively-managed mutual fund with a mandate to invest in H shares through the stock connect. Domestic money managers no longer need to be part of the Qualified Domestic Institutional Investor program to use the link, the China Securities Regulatory Commission said in a statement on March 27.
The program is already open to wealthy mainland individuals and some index-tracking exchange-traded funds. Net inflows into Hong Kong through the link have totaled 38 billion yuan since March 30.
Invesco's fund will invest 45 percent of its assets in both yuan-denominated A shares and H shares, with the remaining 10 percent in cash in a "base scenario," according to its prospectus. Xie declined to elaborate on the fund's current weightings.
— With assistance by Shidong Zhang
Before it's here, it's on the Bloomberg Terminal.
LEARN MORE