Chicago Cubs' Kris Bryant Goes 0-for-4 in Major League Debut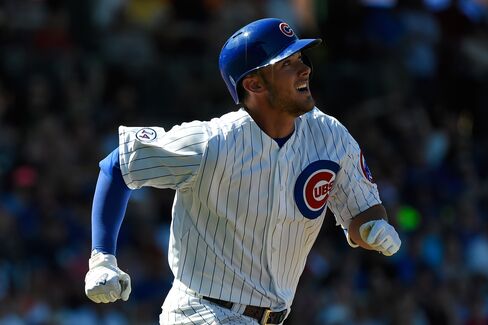 The Chicago Cubs' Kris Bryant went 0-for-4 with three strikeouts while batting cleanup Friday in his Major League Baseball debut.
The 23-year-old Bryant played third base, batting fourth behind Dexter Fowler, Jorge Soler and Anthony Rizzo in Chicago's 5-4 home loss against the San Diego Padres.
Bryant hit nine home runs in 40 spring training at-bats before starting the season in the minor leagues. Bryant hit .321 with three home runs over seven games for Triple-A Iowa this season.
"Today I got to tell my family that my dream is coming true," Bryant said in a Thursday evening Twitter post. "Can't really put into words what that feels like. So excited for this journey!"
By waiting until now to call him up, instead of having him start the season with the Cubs, Chicago pushed back his eligibility for free agency by a year to the end of the 2021 season.
Bryant's agent, Scott Boras, and the players' association were critical of the Cubs in late March when they announced Bryant would start the season in the minors. Cubs President Theo Epstein said keeping Bryant in the minor leagues was a baseball decision.
In 2014, Bryant was named by Baseball America as its Minor League Player of the Year, joining past winners such as Mike Trout, Jason Heyward, Joe Mauer, Derek Jeter and Dwight Gooden.
Bryant was the second pick of the 2013 amateur draft after playing at the University of San Diego. He batted .327 in the minors, hitting a combined 43 homers in Double-A and Triple-A last season.
Before it's here, it's on the Bloomberg Terminal.
LEARN MORE