Cameron Sidesteps Miliband's Challenge to 'Debate Me One-on-One'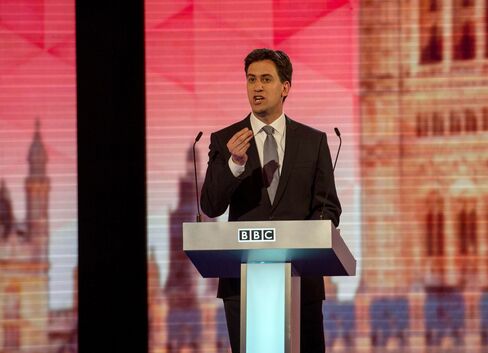 U.K. Prime Minister David Cameron sidestepped a challenge from his Labour opponent, Ed Miliband for a debate between the two men most likely to form a government after the May 7 general election.
"We've had 146 debates at prime minister's questions" in Parliament, Cameron told reporters at the offices of Fujitsu Ltd. near Birmingham in central England Friday. "I think people have seen a lot of those to get the measure of us."
Cameron was responding to a challenge made by Miliband in a televised BBC debate between five opposition leaders on Thursday evening. "David, if you think this election is about leadership, then debate me one-on-one," Miliband said in his closing remarks.
With polls indicating neither Cameron's Conservatives nor Labour likely to win overall control of Parliament, the prime minister has repeatedly rebuffed calls from Miliband for a televised debate between the two, acceding only to a request for an April 2 debate between seven party leaders. Broadcasters had originally proposed a series of debates, culminating in a Cameron-Miliband showdown.
"David Cameron refused to come and debate tonight, but I've got a message for him," Miliband said. "I believe my ideas, my vision for the country is better for the working families of Britain. If you disagree, then prove it. Debate me and let the people decide."
Five Leaders
Cameron said Friday that the previous night's debate was one to which neither he nor Deputy Prime Minister Nick Clegg, of the Liberal Democrats, was invited. The BBC described the lineup as a compromise to ensure the premier took part in other pre-election broadcasts. Miliband was left to spar with U.K. Independence Party leader Nigel Farage, Green Party leader Natalie Bennett, Scottish National Party leader Nicola Sturgeon, and Leanne Wood, leader of Plaid Cymru, the Welsh nationalists.
"They all to one degree or another think that the right answer is to restore Ed Miliband in Downing Street backed by the SNP, a combination which would break up Britain and bankrupt Britain," Cameron said. "I think you saw on your television screens last night just a hint of the chaos you would get from that sort of coalition."
Before it's here, it's on the Bloomberg Terminal.
LEARN MORE