Browns' Manziel Apologizes for Behavior After Release From Rehab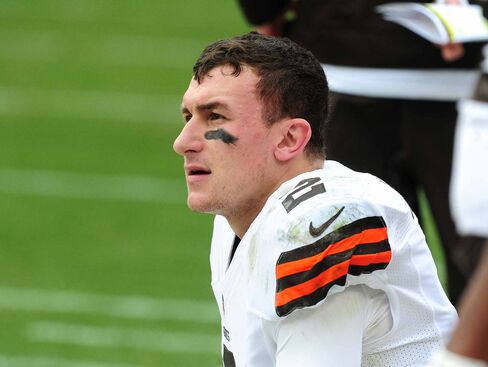 Cleveland Browns quarterback Johnny Manziel apologized for past shortcomings after being released from a rehabilitation program and said he intends to work hard to "regain everyone's trust and respect."
Manziel, 22, spent two months in the rehabilitation program, which specializes in alcohol and drug addiction treatment. Neither Manziel nor the Browns have specified the type of treatment he received after his rookie National Football League season.
"I owe private apologies to a lot of people that I disappointed, but a very public one to the Browns organization and the fans that I let down," Manziel said in a statement. "I take full responsibility for my actions."
Manziel, who won the 2012 Heisman Trophy as college football's top player, started two games for the Browns as a rookie. In the first, a 30-0 loss to the Cincinnati Bengals, he threw for 80 yards and two interceptions. In the second, a 17-13 loss to the Carolina Panthers, he left in the first half after completing three passes for 32 yards.
Manziel faced numerous off-field controversies in addition to his on-field struggles, including being disciplined by the Browns for oversleeping the day before the team's season finale. The Northeast Ohio Media Group reported that Manziel said he had partied too hard the previous night.
Manziel said he understands that it will take time to regain trust from teammates and fans, and that it will happen through his actions, not his statements. He also asked that his privacy be respected, saying he understands there's a lot of curiosity, but that its an ongoing personal process.
Manziel may compete with Josh McCown for the starting quarterback job in Cleveland.
"I look forward to seeing my teammates next week," said Manziel, "And focusing on football and my desire to be the best possible player, teammate, and man that I can be."
Before it's here, it's on the Bloomberg Terminal.
LEARN MORE