AmEx Declines as Revenue Misses on Stronger Dollar, Costco Loss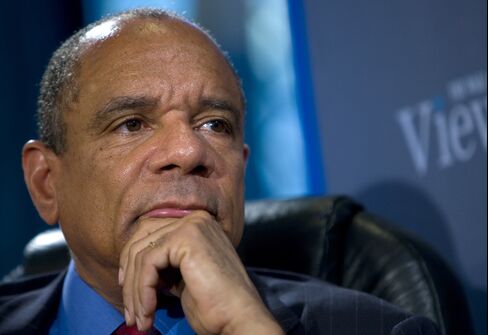 American Express Co., the biggest credit-card issuer by purchases, declined the most in the Dow Jones Industrial Average after posting first-quarter revenue that fell short of analysts' estimates.
AmEx slid 3.4 percent to $78.15 at 9:32 a.m. in New York, the biggest intraday drop since Feb. 12. The shares have fallen 16 percent this year, the worst performance in the 30-company Dow.
AmEx said late Thursday that net revenue declined 2.7 percent to $7.95 billion from a year earlier as the U.S. dollar strengthened and the lender began to feel the effects of ending its relationship with Costco Wholesale Corp. in Canada. The average estimate of 21 analysts surveyed by Bloomberg was for revenue of $8.18 billion.
Net income in the quarter climbed 6.5 percent to $1.53 billion, or $1.48 a share, the company said, beating the $1.37 average estimate of analysts in the Bloomberg survey. Expenses rose 5 percent, excluding some one-time items and adjusted for currency fluctuations, as the company spent more on rewards programs.
"If this is supposed to be the best quarter of the year, which is what they've hinted at, then we don't have a lot to look forward to on an earnings perspective," Jason Arnold, an RBC Capital Markets analyst, said in an interview. "The headline number looks good but when you dig into the guts, not so much."
The lender, which announced in February that it will terminate its agreement with Costco in the U.S. in 2016, expects earnings this year to "be flat to modestly down," Chief Executive Officer Ken Chenault said in a statement. The partnership with the Issaquah, Washington-based retailer accounted for 20 percent of AmEx's worldwide loans and 8 percent of customer spending.
Before it's here, it's on the Bloomberg Terminal.
LEARN MORE