Zynga's Pincus Said in Talks to Bring Former Executives Back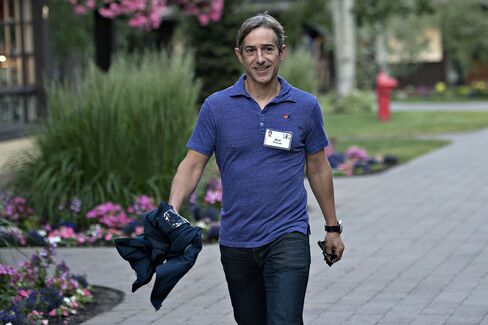 Zynga Inc. Chief Executive Officer Mark Pincus is recruiting former colleagues to return to the struggling video-game company, a week after he retook the reins as CEO, according to a person with knowledge of the talks.
Pincus is discussing an operational role for Marcus Segal, who ran Zynga's casino-games division before leaving in early 2014, said the person, who asked not to be named because the talks are private. Pincus is also talking to others who know the company and worked under him before, they said.
Zynga, a maker of the social-media games FarmVille and Words With Friends, fell 18 percent after saying on April 8 that CEO Don Mattrick was leaving after 20 months on the job. Pincus, the company's chairman and former CEO, founded Zynga in 2007 and led it through more successful times when it was the most-popular publisher of casual games on Facebook Inc.
Segal didn't respond to requests for comment made through e-mails and social media. A spokeswoman for Zynga had no comment for the story.
Zynga has struggled to make the transition to mobile devices, which have become a key market for casual games. Shares of the company, which traded as high as $14.69 in 2012, closed Wednesday at $2.46, up 0.8 percent.
Executives hired by Mattrick may not stay to work for Pincus, the company's chairman and former CEO, according to Arvind Bhatia, an analyst at Sterne Agee Group.
"We see risk of additional departures," Bhatia said in a research note last week.
Before it's here, it's on the Bloomberg Terminal.
LEARN MORE