World's Biggest Wealth Fund Says Monetary Risks at Historic High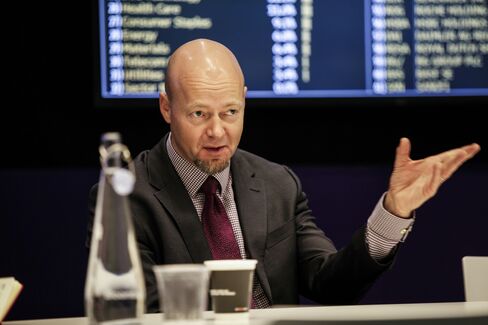 For Norway's $890 billion sovereign-wealth fund, the investment risks stemming from monetary policy have never been greater.
Like most global investors, the Oslo-based fund is trying to navigate uncharted terrain as central banks across the world push out stimulus to protect economic growth and spur inflation.
"Monetary policy does affect pricing in today's market to such an extent that monetary policy itself has been a risk you have to watch," Yngve Slyngstad, chief executive officer of the fund, said in an interview on Wednesday at Bloomberg's New York headquarters. "Investors are focused more on monetary policy changes than has been generally the case, than at any time, as far as I can remember."
The world's biggest wealth fund, which says it faces diminished returns amid record-low bond yields, last month revealed it was seeking to profit from quantitative easing by, among other things, buying Spanish bonds. The European Central Bank embarked on its historic asset-purchase program in March, buying euro-area sovereign debt to bring down long-term rates.
That's pushed bond yields below zero in many countries and also caused stocks to surge. The European Stoxx 600 climbed to a record this week, and is up 21 percent this year.
"As anything that moves prices is a risk that has to be monitored, here the effects of monetary policy affect prices dramatically," Slyngstad said. "It's of course always been the case with long rates, and now more significantly with the currency. That's just a fact of the current market."
At the end of last year, the fund was invested in bonds in 31 currencies.
The Government Pension Fund Global -- its formal name -- returned 7.6 percent in 2014, its smallest gain since it posted a loss in 2011. The investor is mandated by the government to hold 60 percent in stocks, 35 percent in debt and 5 percent in properties. While the investor mostly follows global indexes, it has some leeway to stray from those benchmarks.
Before it's here, it's on the Bloomberg Terminal.
LEARN MORE